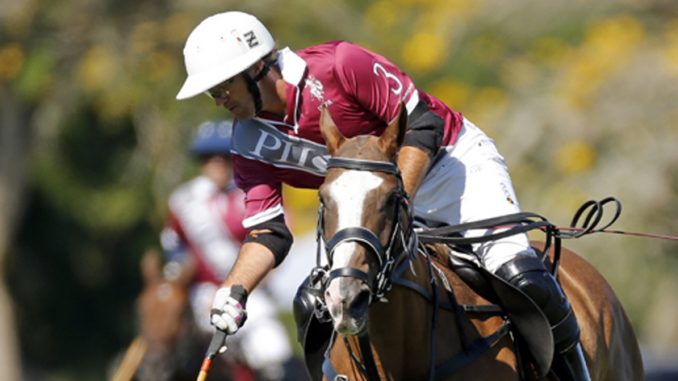 Finals Set in USPA Gold Cup
The semi-finals of the 2019 USPA Gold Cup produced two exciting games at the International Polo Club Palm Beach, with Aspen holding on to defeat Daily Racing Form 9-8, while Pilot survived a late push from Equuleus to claim the 9-8 victory, setting up a final with three Pieres' including Pilot's Facundo and Gonzalito Pieres along with Aspen's Polito Pieres.
The opening semi-final was decided on the goal line in the final seconds, with Aspen utilizing a balanced team performance that saw possession originate with Pilot Pieres and Lucas James and finish with accurate passes to all teammates. A dominant first half for Daily Racing Form produced a relentless offense that kept the ball in the offensive half, resulting in zero shots for Aspen in the first two chukkas. Agustin Obregon led Daily Racing Form's attack with three assists but missed opportunities kept Aspen within reach. Despite the slow start, Aspen trailed by just one at halftime, using a strong start to the second half to charge their way into the lead. Shooting a perfect 3 for 3 in the fourth chukka, Aspen claimed their first lead with a goal each from Polito Pieres, Lucas James and Tomas Schwencke. A back and forth final two chukkers resulted in Aspen maintaining their one-goal lead with a minute remaining in the game, with Daily Racing Form pushing to tie the score. A late run inside the final 15 seconds gave Daily Racing Form an opportunity to score after a Jared Zenni pass gave Geronimo Obregon a tap in on the goal line. Two strides out from the ball, the final horn went, ending Daily Racing Form's comeback and giving Aspen the narrow 9-8 victory.
Another close game emerged in the second semi-final between Equuleus and Pilot, with the latter dominating possession, but shooting just 29% in the game, keeping Equuleus within reach. The two-man game for Pilot was on full display with Gonzalito and Facundo Pieres working seamlessly together to keep Pilot on the attack. Despite outshooting Equuleus 12-3 in the first half, Pilot only held a two-goal lead, failing to take advantage of their increased time with the ball. Equuleus began to fight their way back into the game, taking advantage of each scoring opportunity, led by Magoo Laprida who finished with five goals, all from the field. Pilot's difficulty scoring from the field was overcome by strong shooting from the penalty line by Facundo Pieres, who converted 4 of his 5 attempts. Late foul trouble for Equuleus resulted in two penalty goals for Facundo Pieres, putting Equuleus' comeback attempt in jeopardy. Magoo Laprida scored with time expiring but it wasn't enough as Pilot hung on for the 9-8 victory, improving to 9-0 on the season and reaching the second final of the Gauntlet of Polo™