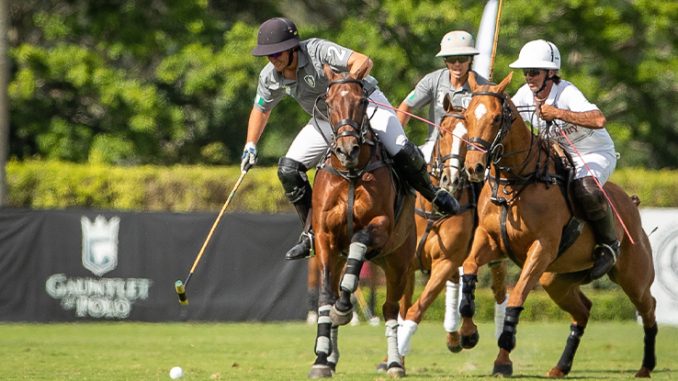 Old Hickory Bourbon/Airstream Advance to Quarterfinals of USPA Gold Cup®
Needing overtime to decide their first encounter in the USPA Gold Cup®, Old Hickory Bourbon/Airstream and SD Farms met on U.S. Polo Assn. Field 1 in the first play-off game to battle for a spot in the quarterfinals. Another close match resulted in Old Hickory Bourbon/Airstream claiming their first victory and advancing in the tournament with the 11-10 victory.

Trailing throughout much of the game, Old Hickory Bourbon/Airstream remained within reach with a combined team effort that featured at least two goals from all four players. Gaining their first lead of the game in the sixth chukker, Old Hickory Bourbon/Airstream's resilience paid off with Stevie Orthwein coming forward to score the final two goals for his team. SD Farms were just steps away from victory, led by perfect 6 for 6 penalty shooting from Felipe Vercellino, who finished with a game-high seven goals, but the final chukker surge from Old Hickory Bourbon/Airstream secured the victory in the first play-off game.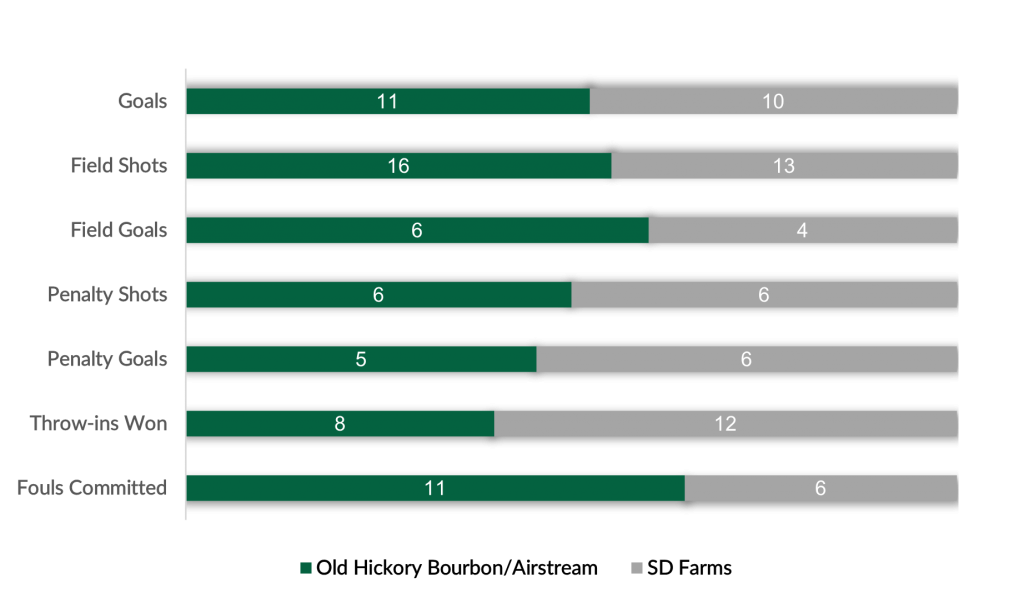 Drawing on their chemistry from their previous game, SD Farms' new line-up resulted in a quick 2-0 lead after field goals from Geronimo Obregon and Ignacio Novillo Astrada. Young Santino Magrini opened the scoring for Old Hickory Bourbon/Airstream, but it was a brief reprieve from the SD Farms attack, which continued to drive forward. A Penalty 3 conversion for Vercellino was followed by a field goal from Sayyu Dantata, leaving SD Farms with a commanding 4-1 lead in the second chukker. In a relatively clean opening half, foul trouble for SD Farms in the third chukker resulted in a Penalty 1 and Penalty 3 for Matias Magrini, bringing Old Hickory Bourbon/Airstream back within one, trailing 5-4 at halftime.
With a win needed to continue in the tournament, the defense tightened on both sides of the ball leading to less goals from the field and offense being generated from the penalty line. Matias Magrini and Vercellino exchanged penalty conversions as SD Farms maintained their narrow one-goal advantage. Behind a determined effort, Old Hickory Bourbon/Airstream finally pulled even in the fifth chukker after consecutive penalty conversions for Joaquin Panelo. After Vercellino's fifth penalty conversion inched SD Farms back ahead by one, Old Hickory Bourbon/Airstream reorganized and produced five shots at goal in the final minutes. Leading the charge was Orthwein, who gave his team their first lead at 10-9. With time ticking down, Orthwein intercepted a pass at the 60-yard line and fired the ball through the posts with just 17 seconds left, sending Old Hickory Bourbon/Airstream into the quarterfinals with the thrilling 11-10 win.
For his sixth chukker heroics, Orthwein was named Most Valuable Player, while Felipe Vercellino's Fiestera was awarded Best Playing Pony. Play resumes on Monday with two more play-off matches as La Indiana faces Coca-Cola at 11:00am ET, followed by CK Shack vs Dutta Corp/Show+ at 3:00pm ET.
Old Hickory Bourbon Goal- Chukka 6
Photos and Videos courtesy of ©Global Polo Entertainment