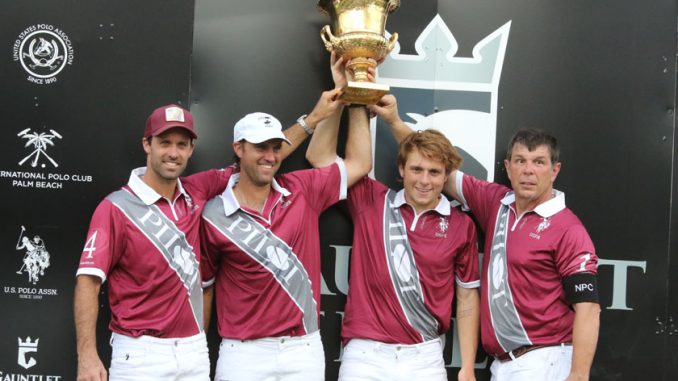 Pilot Captures Second Leg of Gauntlet of Polo™
The 2019 USPA Gold Cup® final featured a thrilling overtime match with Pilot converting a Penalty 4 to claim the 12-11 victory over Pilot, receiving the $125,000 prize and remain in the hunt for the $1,000,000 prize at the International Polo Club Palm Beach.
A family affair with the four highest players on the field all Pieres' along with brother-in law Lucas James, Pilot and Aspen produced a back and forth match that required overtime. Heavily pressuring Facundo Pieres throughout the game, Tomas Schwencke and Stewart Armstrong were effective for Aspen, causing turnovers and often stopping Pilot's attack. In a game decided by a few plays, Pilot reverted to their possession attack, forcing Aspen into consecutive fouls in the overtime chukker that proved to be the difference.
Aspen looked to put an end to Pilot's undefeated reign, racing out to the 5-2 lead thanks to an impressive display from Polito Pieres, who scored four goals and added an assist to contribute on all his team's goals in the opening two chukkas. Facundo and Gonzalito Pieres found their stride in the third chukka, finishing a perfect 3 for 3 from the field and converting their lone penalty attempt to tie the game at 6-6. The second half saw play tighten up with little space on both sides of the ball. Four combined missed shots to begin the half left the teams deadlocked as the pressure increased with the outcome to be decided in the final two chukkas. The potent offense of Pilot broke out again in the fifth chukka, scoring three goals to hold their first lead at the end of a chukka, with Aspen struggling to slow the two-man game of Gonzalito and Facundo Pieres. With the game on the line, it was Polito Pieres who stepped up, converting a Penalty 2, while adding a goal from the field to send the final into overtime. Receiving two fouls within the first 40 seconds of overtime put Facundo Pieres on the 60-yard line with a chance to win the game and under immense pressure, found the goal to claim their second consecutive tournament and remain a perfect 10-0 on the season.