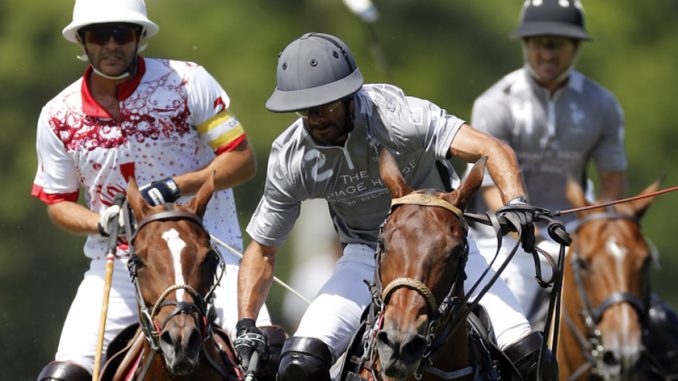 Coca-Cola Wins Opening Game of CaptiveOne U.S. Open Polo Championship
The first day of the 2019 CaptiveOne U.S. Open Polo Championship® saw Coca-Cola defeat La Indiana 12-10 at the International Polo Club Palm Beach, beginning the final leg of the Gauntlet of Polo™.
A game of runs for both teams resulted in La Indiana claiming the early lead, only for Coca-Cola to utilize an accurate passing attack to fight their way into the lead. The duo of Ignacio Novillo Astrada and Julian de Lusarreta worked effectively on the attack for Coca-Cola, aided by the efforts of Gillian Johnston who moved the ball downfield to finish with six shots. The team effort from Coca-Cola led to eight of their nine field goals being assisted on in the two-goal victory.
Tomas Garcia del Rio had an early impact on the game, finding all three teammates with accurate passes, including Facundo Obregon's substitute Bautista Urbina, to claim two assists along with two goals of his own to push La Indiana into the 5-2 lead. Astrada and de Lusarreta ended the run for La Indiana with a 3-1 third chukka in favour of Coca-Cola, aided by two penalty conversions from Astrada. Reducing the deficit to one, Coca-Cola continued to pressure the La Indiana with an accurate passing attack that erased the deficit and gave them a lead in the fourth chukka. A goal and an assist for de Lusarreta, who found Johnston downfield with a pass, pushed Coca-Cola into a three-goal advantage by the end of the fifth chukka, with La Indiana struggling to slow an organized Coca-Cola attack. With Coca-Cola seemingly in control, La Indiana charged back into a tie, with three unanswered goals, one each from Michael Bickford, Bautista Urbina and Jeff Hall, leaving the outcome to be decided in the final minutes. Sticking with their passing strategy, Coca-Cola responded with two field goals, both assisted to claim the narrow 12-10 victory to open play in the CaptiveOne U.S. Open Polo Championship®.