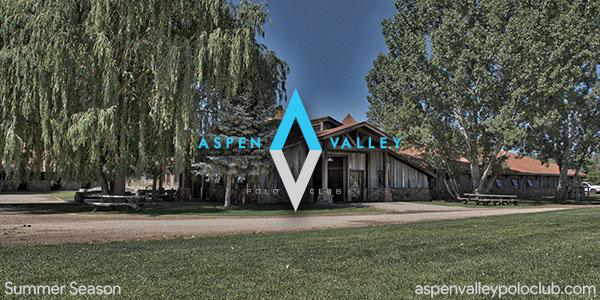 Mountain Chevrolet Captures ChukkerTV Challenge Cup; Michael Payne MVP
Mountain Chevrolet won its first major tournament in club history Sunday in the ChukkerTV Challenge Cup at Aspen Valley Polo Club's McClure River Ranch.
ChukkerTV Challenge Cup champions Mountain Chevrolet's Michael Payne, Juancito Bollini, Grant Ganzi and Nacho Novillo Astrada.
By Sharon Robb
Making its championship final debut, Mountain Chevrolet (Michael Payne, Grant Ganzi, Juancito Bollini, Nacho Novillo Astrada) defeated Flexjet (Melissa Ganzi, Gussie Busch, Kris Kampsen, Juan Bollini), 8-7, to win the six-team tournament.
Payne, playing well above his A-goal rating, was named Most Valuable Player. Payne scored three goals including the game-winner and was relentless on defense.
Juancito Bollini of Mountain Chevrolet drives downfield in his summer debut.
"Last year I played in the Thursday-Saturday league and this year I stepped it up to the Friday-Sunday league," Payne said. "It's much more competitive with great pros, great players and great fields. I love it."
Michael Payne of Mountain Chevrolet takes off for a pass from teammate Grant Ganzi.
Oringina, an 8-year-old Chestnut mare, was selected Best Playing Pony. Oringina was played by Nacho Novillo Astrada and owned by Wellington-based Santa Rita Polo Farm.
Mountain Chevrolet had balanced scoring. In addition to Payne's three goals, Juancito Bollini, making his summer debut, had three goals and Grant Ganzi added two goals.
Michael Payne of Mountain Chevrolet hits a near side shot with Gussie Busch defending.
Melissa Ganzi scored a game-high five goals and Busch added two goals for Flexjet.
Mountain Chevrolet controlled most of the close game, taking an early 2-0 lead in the opening chukker with goals from Ganzi and Bollini. The game was tied four times.
Nacho Novillo Astrada and Michael Payne of Mountain Chevrolet lean in for the throw-in.
Melissa Ganzi's 50-yard goal tied the game at 7-7 with 1:50 left in the last chukker. In the final 50 seconds, Payne won the throw-in and then was on the receiving end of a pinpoint pass from Ganzi to score and clinch the win.
It was the second consecutive year Grant Ganzi was a member of the winning team in the ChukkerTV Challenge Cup.
Grant Ganzi of Mountain Chevrolet reaches for the ball beneath his horse with Gussie Busch and Juan Bollini defending.
In the Just For The Fun Of It subsidiary game, La Karina (Alejandra Foster, Brian Boyd, Sebastian Merlos, Stewart Armstrong) defeated Los Amigos Red (Pablo Spinacci, Lauren Sherry, Nacho Figueras, Paul Foster), 7-5, for third place in the tournament. Boyd was named Most Valuable Player.
Well done Mountain Chevrolet. Teammates Nacho Novillo Astrada, Juancito Bollini and Michael Payne shake hands.
Boyd, playing well this summer, was named Most Valuable Player. Boyd and Alejandra Foster shared scoring honors for La Karina, each with three goals. Armstrong added one. Paul Foster scored a game-high four goals for Los Amigos Red. Sherry added one goal.
Sebastian Merlos of La Karina plays the near side to get past Pablo Spinacci.
After 1-1 and 2-2 chukkers, La Karina took a 4-3 lead in the third chukker with goals from Foster and Armstrong and pulled away in the final chukker with three more goals including two from Boyd.
Alejandra Foster of La Karina works the ball downfield with Lauren Sherry defending.
The day of polo benefitted WindWalkers Equine Assisted Learning and Therapy Center, founded in 2005 and serving Garfield, Pitkin, Summit and Eagle Counties. Executive director Gabrielle Greeves was awards presenter for both the ChukkerTV Challenge and Just For The Fun Of It games.
Brian Boyd of La Karina works to goal with Paul Foster defending in Just For The Fun Of It.
Mountain Chevrolet is known locally for having one of the best selection of used vehicles for sale in Glenwood Springs, Aspen and Vail. The dealership carries a nice selection of used trucks and cars, an also stock vehicles of all kinds, domestic and foreign.
Michael Payne of Mountain Chevrolet receives his MVP award from presenter Gabrielle Greeves, executive director of WindWalkers.
Mountain Chevrolet joins Los Amigos Red, the Craig Sakin Memorial champion and Piocho Ranch, the season-opening Independence Cup winner, on the 2019 tournament champions list for the summer of 11 grass tournaments and three arena tournaments.
Among the 2019 summer highlights is the 119th USPA Silver Cup. The Aug. 11 final, set for one of the club's two newest fields at McClure River Ranch, will be coupled with the annual Chukkers, Champagne & Caviar fundraiser. Other top tournaments are this week's USPA North American Cup featuring four teams, July 23-August 6 USPA National Arena Handicap, Aug. 7-14 Arena World Cup and Sept. 1-8 Triple Crown of Polo.
A large turnout for the final benefitting WindWalkers Equine Assisted Learning and Therapy Center.
The club's summer marquis charity event, hosted by club owners Marc and Melissa Ganzi and Aspen Valley Hospital Foundation, has raised $1 million dollars in the last two years to benefit Aspen Valley Hospital.
Coming off its most successful summer season, Aspen Valley Polo Club, the summer destination for polo, has lined up a star-studded roster of players including Hilario Ulloa, Sapo Caset, Alejandro and Nacho Novillo Astrada, Tincho and Sebastian Merlos and Nic Roldan to compete with and against patrons and amateur players.
Juan Bollini of Flexjet holding court with Alejandro Novillo Astrada, Kris Kampsen and Lucas Lalor.
With the majestic 12,965-foot summit of Mount Sopris as a backdrop, Aspen Valley Polo Club is one of the busiest and fastest growing USPA-sanctioned clubs in the nation with a membership increase of 75 percent over four seasons.
The horses and grooms are ready, let's get this party started.
Since Marc and Melissa Ganzi founded the club in 2014, polo has increased in popularity in Aspen and surrounding cities with the club's offerings of various weekly grass and arena tournaments, Tuesday Arena and Asado, Kidz Polo, The Polo School headed by former 8-goaler Juan Bollini, and Polo On Demand. In addition, the club offers practice sessions for teams competing in the weekend tournaments.
Flexjet teammates Juan Bollini and Kris Kampsen enjoying the fare from Caribou Club Catering of Aspen.
The Ganzis are avid players and patrons and "have created a polo paradise" according to Piocho Ranch padron Tom Barrack. "You can go all over the world but you can't have these kind of people, players and horses in this setting. It's really a gift." Players, sponsors, community leaders and fans share Barrack's sentiments.
Teams for the ChukkerTV Challenge and Just For The Fun Of It games.
All ages are welcome to enjoy polo at Aspen Valley Polo Club. Admission, food and refreshments are free for fans in a relaxed, laidback atmosphere. An added feature is the club's Jumbotron which made its debut last summer for the fans' enjoyment and Aspen Valley Polo Club Boutique.
Awards table for the ChukkerTV Challenge.
Photos by Nick Tininenko/Aspen Valley Polo Club
2019 Aspen Valley Polo Club Summer Polo Series
July
USPA North American Cup
Thursday 7/18, 11 a.m. Semifinal One, Flexjet vs. McClure River Ranch
1 p.m. Semifinal Two, La Karina vs. Casablanca
Saturday, 7/20, USPA North American Cup Final, 11 a.m.
Basalt Handicap
Friday 7/19, 11 a.m. Semifinal One
1 p.m. Semifinal Two
Sunday 7/21, 11 a.m. Basalt Handicap Final
1 p.m. Just For The Love Of It Cup
USPA Silver Cup & USPA National Arena Handicap Draw
Saturday 7/20 7:30 p.m. at St. Regis Aspen
USPA National Arena Handicap July 23 – August 6
USPA Silver Cup July 24-August 11
Emma Challenge Cup July 26-28
ChukkerTV Arena Challenge July 30
August
High Alpine Cup 8/2 – 8/4
Arena World Cup 8/7 – 8/14
Rocky Mountain Open 8/9 – 8/17
Mount Sopris Cup 8/16 – 8/18
Carbondale Classic 8/23 – 8/25
2019 PoloFest Denver 8/31
September
The Triple Crown of Polo Trophy 9/1 – 9/8
All game time are MST