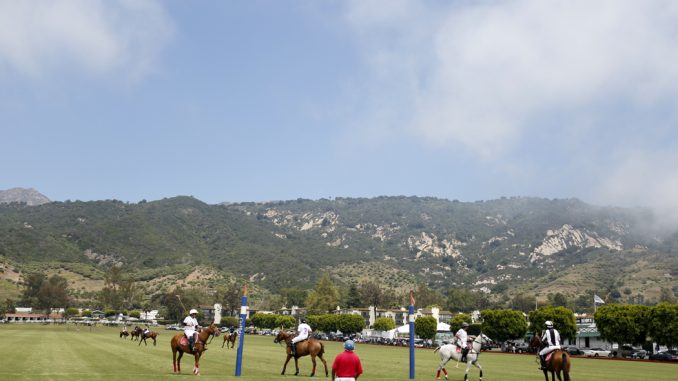 Belmond El Encanto Robert Skene
The first weekend of the Robert Skene Memorial brought us many close and exciting games. All of Sunday's games finished within one goal, proving it is anyone's game here in the Santa Barbara Polo Club's 16 goal.
Sunday morning's game was a match up between Danny Walker's Farmers and Merchants Bank, and Francisco De Narveaz's Sol De Agosto. Both teams appeared at the match with a 1-0 record, making it a very important game to move on in this two week tournament. Sol De Agosto put the first goal on the board from the penalty line, setting the tone for the game which became a battle between penalty shots. Vercellino was very consistent with his penalty shots scoring five in the first half, allowing FMB to move into halftime up by three, with the score 8-5. Sol De Agosto regrouped at halftime to leave FMB scoreless in the fourth chukker and take the lead. With eleven goals in the match, De Narveaz secured the win 13-12.
Game two was between Lucchese and Santa Clara. Santa Clara is playing this tournament with a 15 goal team allowing them to start with one goal on the board from handicap. After an even matchup in the first chukker, Santa Clara kicked into gear in the second scoring four goals and leaving Lucchese scoreless. Lucchese fought back hard in the third to even up the score at the half, 7-7. Lucchese's Obregon and Hall both had a strong fourth chukker scoring five goals from the field and two from the penalty line. Just when it began to look like Lucchese had sealed the deal, Santa Clara pushed the game into overtime with three last minute goals. In overtime, Jeff Hall scored a quick goal from the field to win the game 15-14.
The featured game on the grandstand field was a match up between FMB Too! and Klentner Ranch. FMB Too! started out strong with the first two goals of the game. Klentner Ranch trailed behind for five chukkers. They could not keep up with the scoring power of FMB Too's Santi Wulff who scored 13 goals in the game. Klentner Ranch fought back in the final chukker with four goals, but it was only enough to close the gap by one. The score finished 14-13.
FMB Too's Henry Walker commented on his game. "It is such a privilege to play at what is rated as the best polo club in America against top talent and come out on top. Congrats to Klentner Ranch for a hard fought match and to my team members who performed at the top of their game."