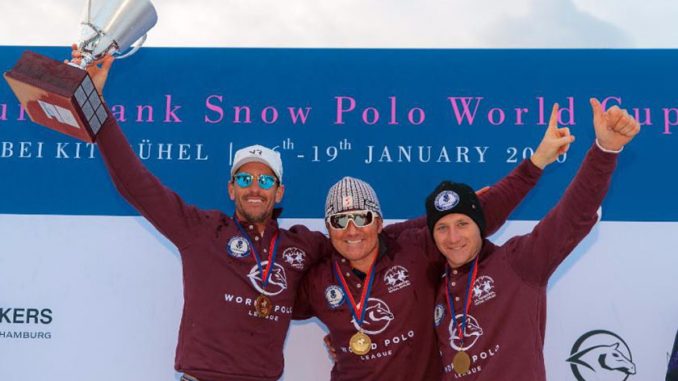 World Polo League Captures 18th Bendura Bank Snow Polo World Cup Kitzbuhel
World Polo League made a lasting impression at the 18th Bendura Bank Snow Polo World Cup.
By: Sharon Robb
The first-year team and sponsor captured the prestigious title and Bendura Bank Trophy Cup with a thrilling 10-8 victory over GP Mobility on a snowy Sunday in front of a soldout VIP tent.

World Polo League (Marc Ganzi, 2, Juan Bautista Peluso, 3, Nic Roldan, 8) finished the eight-team tournament undefeated with a 3-0 record. GP Mobility (Henrique Schalldach, 2, TC Marcus Schalldach, 2, Guilhermo Lins, 6) finished 2-1.

Roldan finished with a game-high eight goals. Ganzi and Peluso each had one.

"The crowd was great, they love their polo here," Roldan said. "It was a great tournament and we were fortunate to come out with a win. It's great for a first-year team and World Polo League."
Nic Roldan of World Polo League takes possession of the ball despite being double teamed.


GP Mobility's Marcus Schalldach was named Most Valuable Player. Lins, who led GP Mobility with five goals, earned the Fair Play Award. Joya, played by Roldan and owned by Frenchman Pierre Henri Ngoumou, was selected Best Playing Pony.
Ngoumou was team captain for France in the International Cup in November at Grand Champions Polo Club and competed in the St. Regis World Snow Polo Championship in December.
The game was close between the two evenly-balanced teams. GP Mobility had the advantage early with a 2-0 lead on handicap. World Polo League quickly dug itself out the hole with goals from Ganzi and Roldan. Lins' 15-yard penalty conversion enabled GP Mobility to regain the lead, 3-2. But back-to-back goals by Roldan gave World Polo League a 4-3 lead after the first chukker.
Nic Roldan of World Polo League works the ball downfield.


Marcus Schdallach scored early in the second chukker to tie the game again. World Polo League had two-goal leads twice before GP Mobility narrowed the gap to one and trailed 7-6 at the half.
GP Mobility opened the third chukker with a goal from Lins to tie the game at 7-7. Peluso's goal just before the bell gave World Polo League the lead again at 8-7.
The fourth chukker belonged to the World Polo League. Playing well on both ends of the field, World Polo League took a 10-7 lead on back-to-back goals from Roldan. For his first goal the crowd-pleasing Roldan took the ball at the half line, bounced the ball three times on his mallet before hitting a tough angle neck shot to score. Roldan scored an insurance goal before Lins added another field goal to end the game.
Kitzbuhel Country Club Best Playing Pony Joya, played by Nic Roldan and
owned by Pierre Henri Ngoumou.
In the three early games:
Intocast (Matthias Normann, 1, Micky Duggan, 5, Martin Juaregui, 6) edged Corum (Eckhardt Juls, 1, Patrick Maleitzke, 5, Juan Ruiz-Guiñazú, 4), 6-5, to finish third for the La Martina Cup.
Engel & Volkers (Ana Escobedo, 1, Segundo Darritchon, 3, Jonny Good, 8) defeated Bernd Gruber (Helmut Wieser, 0, Pato Bolanterio, 4, Santiago Marambio, 7), 8-6, to finish fifth for the Kitzbuhel Country Club Cup.
Bendura Bank (Melissa Ganzi, 1, Alejandro Novillo Astrada, 8, Tito Gaudenzi, 3) topped Laurent-Perrier (Sebastian Schneberger, 2, Phillip de Groot, 2, Valentin Novillo Astrada, 7), 8-6.5 to place seventh for the Kitzbuhel Cup.
18th Bendura Bank Snow Polo World Cup champion World Polo League and
runner-up GP Mobility.


Grand Champions Polo Club was well-represented with Novillo Astrada, Gaudenzi and Melissa Ganzi from Bendura Bank and Marc Ganzi, Bautista Peluso and Roldan from the World Polo League. Melissa and Marc Ganzi are co-founders of the WPL, along with Bob Jornayvaz.
The snow polo tournament was started in 2003 by Tito Gaudenzi and his father Reto with four teams and 1,000 fans. It has grown into one of the country's major sporting events, eight teams and attracts more than 15,000 fans over three days.
Melissa Ganzi was the first woman to win the 35th Snow Polo World Cup St. Moritz in January, 2019. She was also the first woman to compete in the St. Moritz Snow Polo Tournament in 2016 and first woman to make the final in 2017. She is also first woman to win both the St. Regis World Snow Polo Tournament in Aspen for Flexjet in 2016 and 2018 Bendura Bank Snow Polo World Cup. Ganzi will also compete in St. Moritz with Roldan, Novillo Astrada and Bautista Peluso for Badrutt's Palace.

Jan-Erik Franck, the voice of polo who also announces the 26-goal World Polo League at Grand Champions and Valiente Polo Farm, handled the announcing in Kitzbuhel and also at the Jan. 24-26 St. Moritz World Snow Polo Cup before returning to Wellington for the World Polo League season.
Alejandro Novillo Astrada of Bendura Bank takes possession of the ball in the opening game for the Kitzbuhel Cup.


During the winter season in Wellington, Grand Champions is hosting 19 tournaments, the most of any club in the U.S., including five in January. The highlight of the schedule is the second season of the 26-goal World Polo League, featuring at least 11 teams and most of the best players in the sport.

With 18 safe and well-manicured fields, including 11-tournament grade, the club will host every level of polo for men, women and children including the World Polo League, the only 26-goal polo held outside of Argentina featuring the best players in the world.

The club attracts a large international field of players from all corners of the world including Australia, Chile, India, Mexico, New Zealand, Costa Rica, Argentina, Canada, Ecuador, Brazil, Switzerland, France, Germany, Uruguay, Venezuela, Azerbaijan, South Africa, Nigeria and England.

Grand Champions is coming off its finest fall season in the club's 13-year history. It was the only club in the nation to stage two 20-goal fall tournaments in addition to the International Cup and Legends of Polo Carlos Gracida Memorial. The club also hosted a full schedule of successful and highly-competitive medium goal tournaments.
Bendura Bank's Alejandro Novillo Astrada, Tito Gaudenzi and Melissa Ganzi celebrate with World Polo League's Juan Bautista Peluso, Nic Roldan and Marc Ganzi.
Photos courtesy of Bendura Bank Snow Polo World Cup Kitzbuhel.