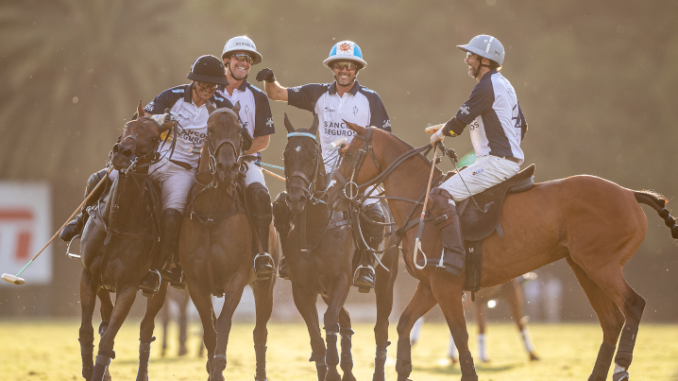 La Dolfina Saudi Polo Team with Statement Victory to Reach the Final of Abierto Argentino de Polo
Facing a must-win game against La Natividad Monjitas after a last-second defeat to RS Murus Sanctus, La Dolfina Saudi Polo Team produced a resounding statement, claiming the 21-10 victory and securing their spot in the final of the 127th Abierto Argentino de Polo. Earlier in the day, RS Murus Sanctus defeated La Irenita 16-10, finishing with a 3-1 record, but goal differential secured the final for La Dolfina in an exciting conclusion to Zona A.
Building on their thrilling victory against La Dolfina Saudi Polo Team, RS Murus Sanctus concluded their tournament with a resounding victory over La Irenita, overcoming early foul trouble with a consistent passing attack in open play. Leading all players with 11 goals, Sapo Caset was an offensive force for an RS Murus Sanctus team that effectively passed to goal, assisting on 10 of their 13 field goals in the game. Juan Martin Zubia's accurate penalty shooting, finishing 5 for 6, kept La Irenita in the game, but ultimately the discrepancy on field shot accuracy proved to be the difference with RS Murus Sanctus shooting 62%, while La Irenita shot just 28% in the 16-10 defeat.
Scoring on the first and last play of the first chukka, RS Murus Sanctus held an early 2-1 lead, conceding only a safety conversion to Zubia. Foul trouble throughout the second chukka sent Zubia back to the penalty line where he converted both his opportunities to push La Irenita into the lead as RS Murus Sanctus could not generate an offense with losing possession. Sapo Caset single-handedly accounted for all of RS Murus Sanctus' offense during a five-goal stretch, all from the field, turning a one-goal deficit into a four-goal lead over just six minutes of play. In a back and forth first half, La Irenita stormed back with three unanswered goals, one each from Facundo Fernandez Llorente, Juan Martin Zavaleta and Martin Podesta, to trail by just one at halftime.
Refocusing in the second half, RS Murus Sanctus controlled possession to outscore La Irenita 3-0 from the field in the fifth chukka. Zubia continued to convert from the penalty line, keeping La Irenita within reach, but foul trouble in the sixth chukka affected their hopes of a comeback. Caset's two penalty conversions in the sixth chukka resulted in the only offense, leaving RS Murus Sanctus holding a 12-7 lead with two chukkas remaining. Focused on maintaining their advantage, Caset and Cappella effectively manned the back of the game, leaving Facundo Sola to secure the victory. Scoring three goals in the final two chukkas, Sola guided RS Murus Sanctus to the 16-10 victory as they awaited the outcome of the final game in Zone A.
One of three scenarios were left to play out to determine the first finalist with La Natividad Monjitas needing a victory to remain undefeated. The other two scenarios involved La Dolfina Saudi Polo Team with a victory by two or more goals sending them to the final, otherwise a one-goal victory would push RS Murus Sanctus into the final. Suffering their first loss at Palermo in many years, La Dolfina Saudi Polo Team responded with an impressive double-digit victory against 36-goal La Natividad Monjitas that saw all four players finish with at least four goals each in an efficient attack that shot 58% from the field and 78% from the penalty line. Foul trouble in the first half for La Natividad Monjitas resulted in five penalty goals for La Dolfina Saudi Polo Team, leaving a large deficit that they were unable to recover from in the 21-10 defeat.
Determined to return to the final, La Dolfina Saudi Polo Team raced out of the gate, scoring four goals inside the first four and a half minutes to leave La Natividad Monjitas stunned. Receiving one goal each from Adolfo Cambiaso, David Stirling, Pablo MacDonough and Juan Martin Nero, La Dolfina Saudi Polo Team displayed a dynamic attack that La Natividad Monjitas struggled to contain. Bartolome and Camilo Castagnola responded with a goal each over the first and second chukkas, but five fouls resulted in penalty conversions for Cambiaso and MacDonough, giving La Dolfina Saudi Polo Team the 7-2 lead. Few matches showcase elite play from all eight players, but after goals from Ignatius Du Plessis and Polito Pieres, all eight players found the scoresheet inside the first three chukkas. Inching closer, La Natividad Monjitas found momentum, but it abruptly switched in a dominant end to the half for La Dolfina Saudi Polo Team. Scoring the final four goals of the half, two each from MacDonough and Nero, La Dolfina Saudi Polo Team held a commanding 12-4 lead, with four chukkas standing in their way of the final.
A tough defense highlighted La Dolfina Saudi Polo Team's strategy, containing and preventing any easy runs to goal for La Natividad Monjitas. After extending their lead to 10, La Dolfina Saudi Polo Team conceded two penalty goals to Camilo Castagnola, who proved to be the only goal-scorer for his team throughout the second half. The continuous pressure of La Dolfina Saudi Polo Team from all four positions resulted in additional penalty opportunities, where they finished 7 for 9 in the game. A three-goal run for Camilo Castagnola in the sixth and seventh chukkas brought La Natividad within eight, but that was as close as they could get as La Dolfina Saudi Polo Team claimed the 21-10 victory and booked their place in the 127th Abierto Argentino de Polo final.
If La Natividad Monjitas, RS Murus Sanctus and La Dolfina all finished with a 3-1 record.
It was goal differential between those teams (only in the games they played against each other). Three scenarios were:
La Natividad wins
La Dolfina wins by 1 (RS Murus Sanctus advances)
La Dolfina wins by 2+
Photo credit: Matías Callejo / Prensa AAP
To see the best plays of the game, click HERE , where you can download a video from ESPN.