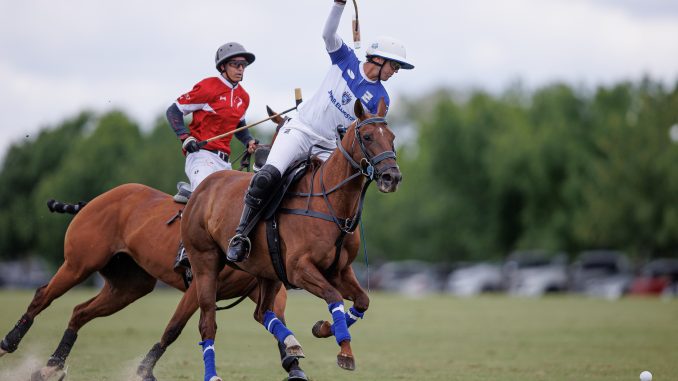 Ellerstina Johor with Successful Debut in 128th Abierto Argentino de Polo
The second round of play in the 128th Abierto Argentino de Polo began with the debut of Ellerstina Johor, as they convincingly defeated La Irenita Polo Team 23-11, while qualifiers Alegria Fish Creek captured the 13-12 upset against La Ensenada Brubank on Field 1 at Pilar. 
Heavily favoured entering their first match of the tournament, Ellerstina Johor never trailed, producing a dynamic offense that resulted in 11 assists on 15 field goals. Leading the way for Ellerstina Johor was Facundo Pieres, who's accurate 8 for 9 penalty shooting along with effectively directing play, kept La Irenita Polo Team in their defensive end.  Foul trouble plagued both teams with 31 combined fouls whistled, however Ellerstina's dominance in open play resulted in the double-digit victory. 

In the opening minutes of play, open runs to goal were difficult to come by with the only offense coming from the penalty line. Ellerstina Johor held the slim 2-1 lead after the first chukka with two Penalty 2 conversions for Facundo Pieres, but La Irenita Polo Team remained close with a determined effort early. Tying the game on two separate occasions, La Irenita Polo Team took advantage of their only two shots on goal to receive field goals from Isidro Strada and Segundo Bocchino, but Ellerstina Johor maintained their narrow lead after Facundo Pieres set up Hilario Ulloa for his first goal. The third chukka ultimately changed the contest as Ellerstina outscored La Irenita Polo Team 5-1 on three penalty conversions for Facundo Pieres and two field goals for Gonzalito Pieres, instantly creating a five-goal difference on the scoreboard. Despite two penalty goals of his own before the end of the half, Strada was unable to bring La Irenita Polo Team any closer, trailing 11-6 at halftime. 
Showcasing elite horsepower in the early stages of the second half, Ellerstina Johor kept La Irenita Polo Team pinned in their own half, outshooting them 8-1 to significantly extend their lead. Ulloa was impressive with two goals and an assist during the stretch that gave Ellerstina Johor the commanding nine goal advantage. Held scoreless for the first time in the game, La Irenita Polo Team was left with a nearly insurmountable deficit with three chukkas remaining. The umpires whistle provided a bit of hope as Strada continued to produce from the penalty line, scoring four goals in the sixth and seventh chukkas, but each goal was met by a response from Ellerstina Johor, who completed their strong debut with the 23-11 triumph over La Irenita Polo Team.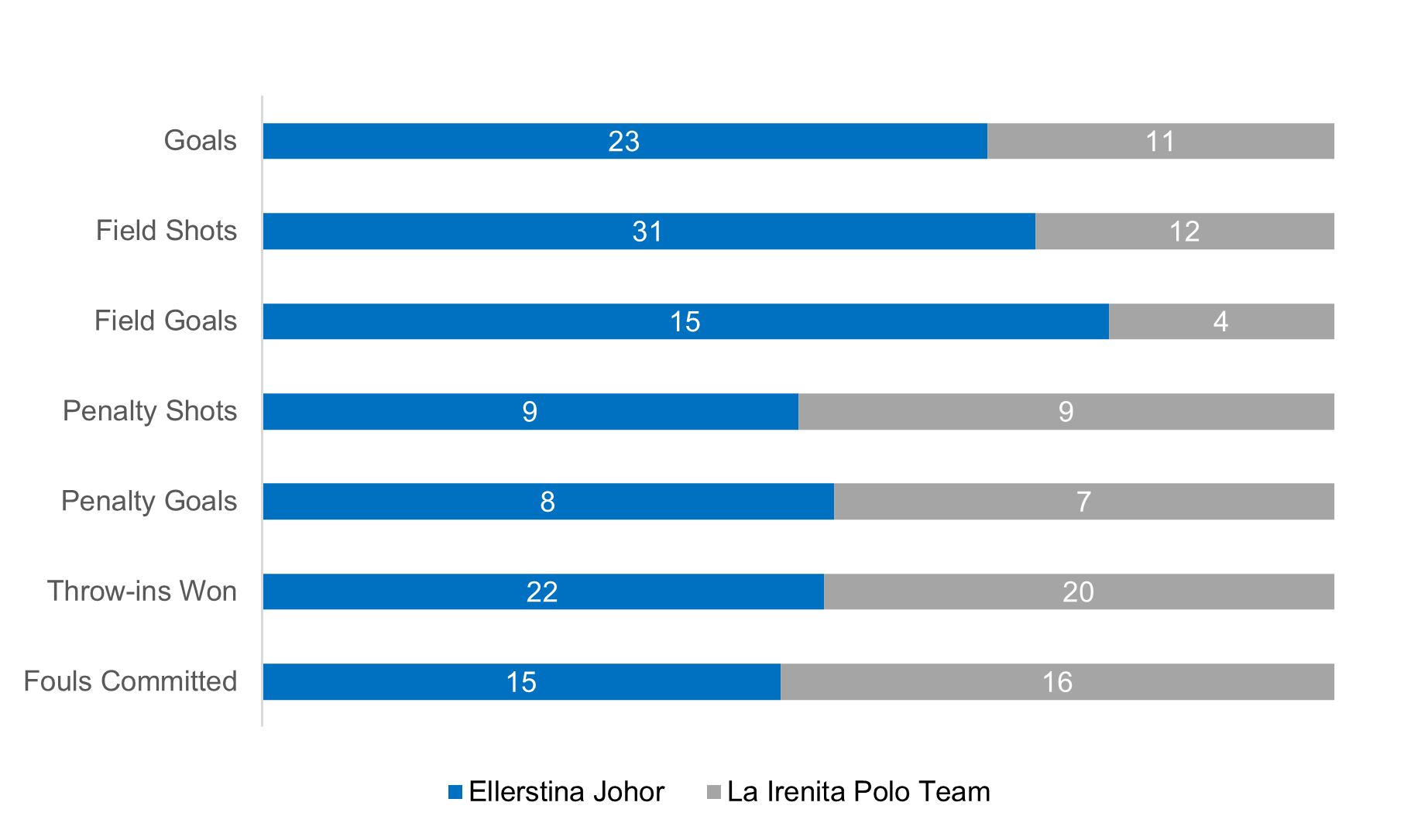 After a difficult debut in the 18-3 defeat to La Dolfina Saudi Polo Team, Alegria Fish Creek returned to play, determined to challenge La Ensenada Brubank for their first victory. Behind an outstanding 11-goal performance from Bautista Bayugar, Alegria Fish Creek captured the impressive win in the back-and-forth affair. La Ensenada Brubank had their chances to claim the win but shot just 1 for 5 from the penalty line, unable to convert any of their four attempts from the 60-yard line. Passing the ball to goal with better accuracy, La Ensenada Brubank held the narrow advantage in open play, but the play of Bayugar was the difference, shooting a perfect 100% from the penalty line while also shooting above 50% on 11 shot attempts to lead Alegria Fish Creek to the upset victory. 

End-to-end action with zero stoppages in the first chukka treated spectators to fast polo, yet only one goal was scored off the mallet of Joaquin Pittaluga to give Alegria Fish Creek the 1-0 lead. Finding momentum, Alegria Fish Creek shot at goal with regularity, but early inaccuracy kept La Ensenada Brubank one goal behind with another tally for Pittaluga providing the only offense for Alegria Fish Creek. Exchanging one goal each in every chukka for the remainder of the half, the difference remained at one in favour of Alegria Fish Creek as they set their sights on the upset over the higher-rated La Ensenada Brubank team.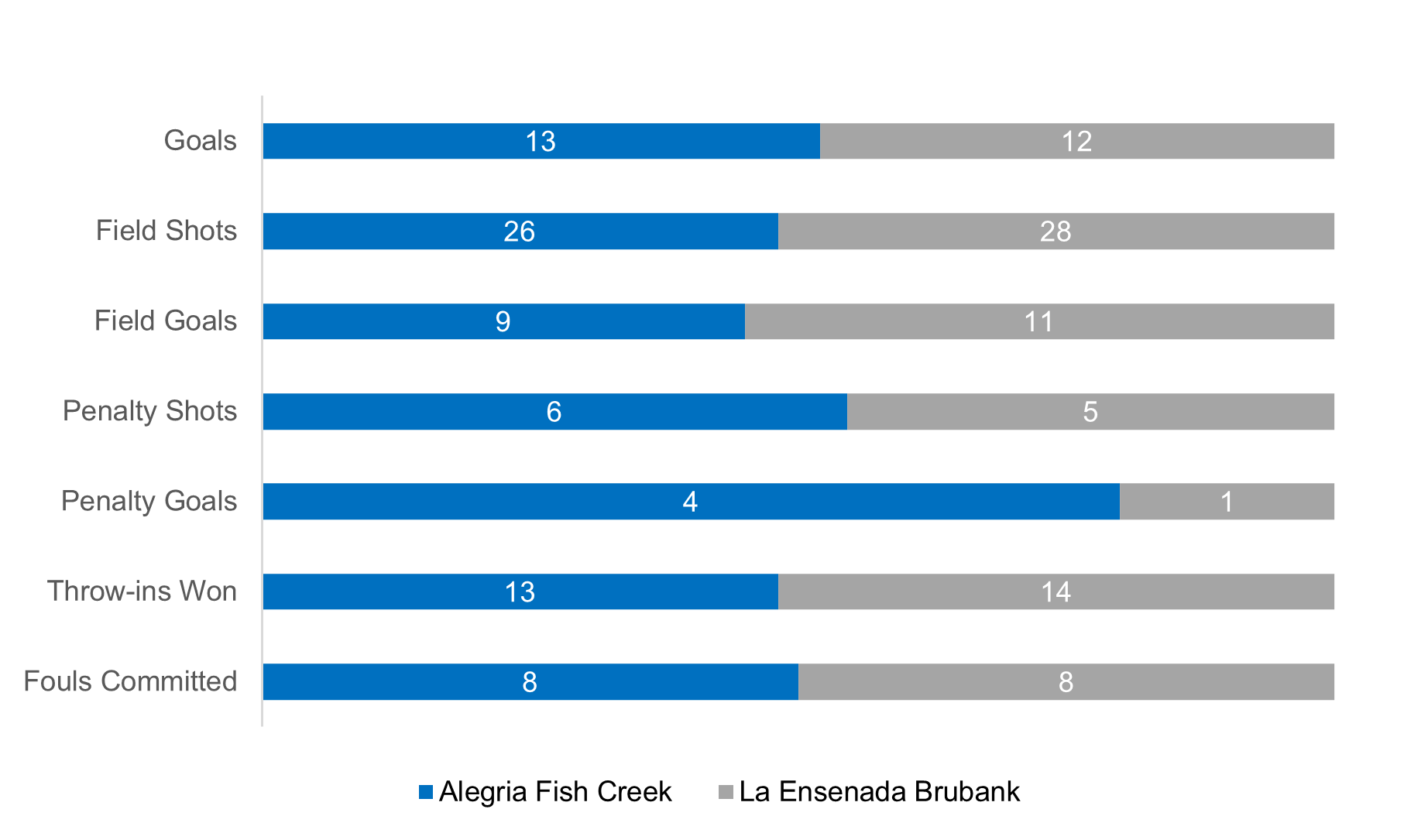 For the first time in the game, La Ensenada Brubank found themselves in foul trouble, conceding three penalty goals to Bayugar in the fifth and sixth chukka. Adding a field goal, Bayugar accounted for all four Alegria Fish Creek goals to begin the second half, but La Ensenada Brubank provided a response. Shooting at goal seven times in the sixth chukka, each player found the mark to produce a four goal chukka and restore the one-goal deficit entering the final two chukkas. With six goals and zero fouls in a thrilling seventh chukka, the game opened up to showcase elite play, but Alegria Fish Creek were determined to hold on to their lead, relying on three more goals from Bayugar to match the efforts of La Ensenada Brubank. With time expiring, La Ensenada Brubank pushed forward to tie the score and were presented with two penalty chances to tie the game. Unable to send the ball through the posts, La Ensenada Brubank fell a goal short as Bayugar's eleventh goal was the difference in the 13-12 victory. 
Photo Credit: ©Matias Callejo