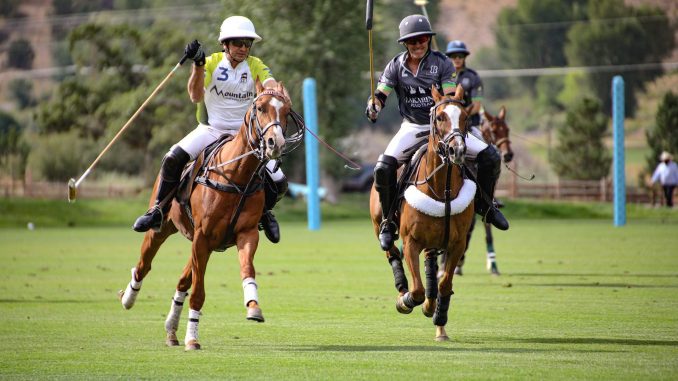 Aspen Valley Polo Club to Open Summer Season with Independence Cup on July 4
CARBONDALE, CO, July 3, 2020—Aspen Valley Polo Club will kick off the 2021 summer season with the Independence Cup on July 4th. With the relaxation of Covid restrictions, the club is delighted to welcome spectators once again with all matches free and open to the public.
By: Rebecca Baldridge
Photos by: ChukkerTV
Polo returns to Aspen in July, with the club set to host 10 tournaments over the summer. Play kicks off on July 4th, with the season opening Independence Cup, followed by the ChukkerTV Cup from July 7-11 and the Craig Sakin Memorial from July 14-18. Also returning this summer, on August 22, is the Chukkers, Champagne, and Caviar polo event to benefit the Aspen Valley Hospital Foundation.
As always, the summer promises plenty of thrills on the field. This season 10-goal superstar Gonzalo Pieres joins the lineup, where he'll play alongside perennial favorites Nic Roldan, Alejandro Novillo Astrada, Nacho Figueras, Sugar Erskine, Horacio Heguy, Tomacho Pieres, Juan Bollini, and Pablo Spinacci. The roster will also include rising stars of the pitch Torito Ruiz, Grant Ganzi, Nacho Badiola, Gussie Busch, and newcomer from Boulder, Govinda Quish.
Returning players also include sponsors Brian Boyd of La Karina, Vinny Sangaline of White Claw, USPA Chairman Stewart Armstrong will also be joining the lineup, as well as McClure River Ranch co-founders Paul and Alejandra Foster, and locals Lauren Sherry, Alex Gooding, and Michael Payne. New to team sponsorship this season from Denver is Kevin Schmeits with his Victory Polo Farms team.
Sunday's Independence Cup will include two games, with teams:
Rancho Los Amigos (Paul Foster, Vinny Sangaline, Horacio Heguy 5, Tomacho Pieres 6)
Santa Rita (Melissa Ganzi, Alejandro Novillo Astrada 8, Alejandra Foster, Juan Bollini 4)
Casablanca (Govinda Quish, Torito Ruiz 7, Grant Ganzi 3, Pablo Spinacci 6)
McClure River Ranch (Nacho Figueras 6, Lauren Sherry, Alex Gooding 2, Nacho Novillo Astrada 8)
La Karina (Brian Boyd 1, Marc Ganzi 2, Sugar Erskine 6, Nic Roldan 8).
Marc and Melissa Ganzi, who founded the club in 2014, will also take top billing. Since the club was founded, polo has increased in popularity in Aspen and surrounding cities with the club's offerings of various weekly grass and arena tournaments, Tuesday arena polo followed by an asado, Kidz Polo, The Polo School and Polo on Demand. In addition, the club offers practice sessions for teams competing in the weekend tournaments.
Following the relaxation of Covid restrictions, Aspen Valley Polo Club will be delighted to welcome spectators to matches once again. The club adheres to all Colorado and Garfield Country safety mandates and encourages unvaccinated guests to continue wearing masks, and maintain social distancing guidelines.
Club co-founder Melissa Ganzi says, "We could not be more delighted to welcome our fans back. Polo has become part of the social fabric of summer in Aspen. An enthusiastic crowd heightens the enjoyment for players and spectators alike, and we're really looking forward to an exiting season on and off the field."
Pablo Spinacci and La Karina sponsor Bryan Boyd
ChukkerTV will livestream the entire 2021 polo series so fans can enjoy the best polo of the US summer season. ChukkerTV was the first to introduce state-of-the-art live streaming technology and instant replay in January 2014 at Grand Champtions Polo Club in Wellington, Florida.
Independence Cup
Sunday July 4, 2021
10:30am Just For The Love Of It Cup
McClure River Ranch Field 2
Rancho Los Amigos vs Santa Rita
11:45am The Independence Cup Round Robin
McClure River Ranch Field 1
Casablanca vs McClure River Ranch vs La Karina
**Games live-streamed on https://www.chukkertv.com
Mountain Standard Time