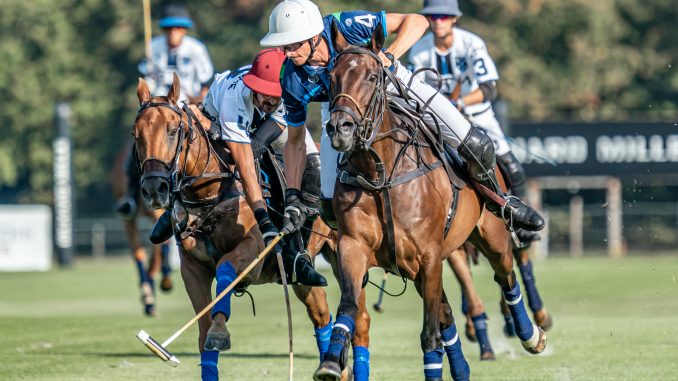 Polo French Open
It's the women's turn!
While the Mixed French Open is in full swing (the verdict for the semi-finals will come tonight), the Women's French Open started yesterday with two intense matches with players from Switzerland, Argentina, Germany and France
Lucy Venot (Maison Décalé, in black) and Maike Hoelty (Hyatt Regency Chantilly)
Four teams at the start and already two of them seem to stand out, taking the handicaps into account. Maison Décalé opened the bandwagon by winning heavily against the German Hyatt Regency Chantilly (10 – 2 ½). A absolutely strong team with the three Venot sisters who are used to playing together reinforced by Caroline Anier who, although she only carries a woman handicap of 4, plays well above this level. She was for a long time the best female player in the world with a "men" handicap of 4 and she participated in the Argentine Open in 2017. This year, the Frenchwoman has regained a level of play close to her best and that can be appreciated in the mixed French Open with the Le Pommeray team.
The main opponent of Maison Décalé will obviously be DS Automobile DS Store St Maximin who dominated last night a very nice Engels & Völkers team (7-4) thanks to the organization and the strategy concocted by the best lady player in the world, Argentina's Lia Salvo. The confrontation between the latter and Caroline Anier should be… hot next Thursday at 11.00 am. A match that will probably be a rehearsal of the final next Sunday.
On the mixed side, tonight will be played the last places for the semi-finals of the French Open. Yesterday afternoon, Les Lions Panarea, who devoured everything in their path (4 games, 4 victories, 55 goals) have largely confirmed their qualification (15-5 against Sainte Mesme with 3 goals from patron Dillon Bacon including a very spectacular one). With three victories, the Dutch team Amanara is also in the semi-finals. Behind, everything is still possible for the title holder, Marqués de Riscal, but the Spaniards will have a big chunk to swallow at 4.30 pm with Talandracas and Jeta Castagnola. A real quarterfinal that will be watched by Tommy Rinderknecht and his teammates because if Marqués de Riscal loses, Marquard Media will be the fourth semi-finalist. This French Open will have been exciting from start to finish.