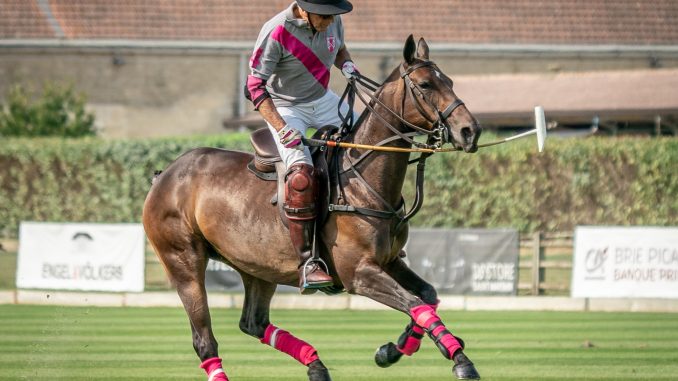 The 20th anniversary of the French Open
Shout Out To The Captains!
This year, if the French Open is able to reach an unprecedented level in France for the past 2 decades, it's of course thanks to the 11 professional players of the Argentine Open – the ultimate world class tournament. But let's not forget the 8 "patrons", thanks to whom these 11 pro players are able to come, offering us spectacular matches on a daily basis!
The Swiss captain Tommy Rinderknecht has his stables based near Senlis, France. He surely has lived some incredible moments yesterday, ridding off against the young phenomenal argentine player Barto Castagnola
Polo is a sport of passion and essentially of the team captains – the patrons who hire the professional players. These captains share the adrenaline of the most ancient team sport with their players. They play a specific role on the ground and could be yelled at by their pros if they don't accomplish their assigned missions. They could play either a role of defense or attack: for example, the American Dillon Bacon, patrons of Les Lions Panarea, is currently a ranked scorer with 4 goals! It is thanks to Dillon that the spectators at the Chantilly Polo club (the crowd is growing bigger every day for each match!) could be lucky enough to admire the talent of the future star of international polo: Barto Castagnola.
And thanks to the French patron Edouard Carmignac, Barto's younger brother, the as formidable Camilo (aka Jeta), could be now showcasing his stunning performance to the French public. Edouard Carmignac's team, Talandracas, won six times the Gold Cup in Deauville and also once the highly coveted Queen's Cup. For the past 20 years, he teamed up with some Argentine Open champions such as Juan-Martin Nero, Lucas Monterverde, Nicolas Pieres and Milo Fernandez, never letting down the French polo fans!
Shout out also to Alexandre Sztarkman who brought us Guillermo Terrera, a semi-finalist of the last Argentine Open; to Derek Smith who came with Juan-Gris Zavaleta and Tito Guiñazu; to Birger Strom with his son-in-law Clemente Zavaleta; without forgetting the Spanish Alejandro Aznar with Ale Muzzio and Santi Cernadas, the Swiss Tommy Rinderknecht with Martin Aguerre and the Dutch lady captain Nicky Sen who brought Santiago Chavanne.
Thank you captains!
Alexandra Sztarkman (Majoa Paris) with his French pro, Pierre Henri Ngoumou (h6)
Édouard Carmignac (Talandracas) is the French patron who has brought the greatest number of legendary Argentinian champions to play in France.