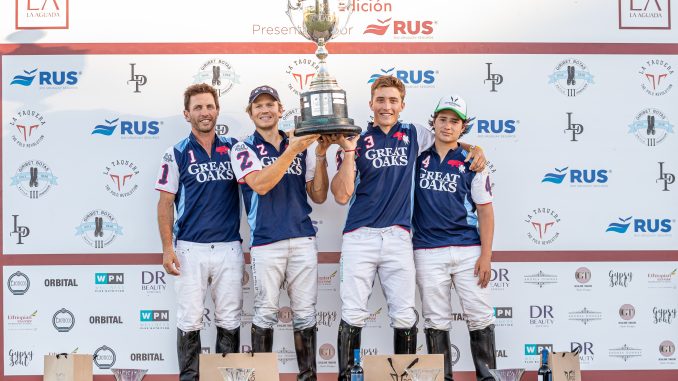 GREAT OAKS CLAIMED XVII JULIO NOVILLO ASTRADA CUP
December 14, 2020 – Great Oaks defeated La Ensenada by a 15-9 score, and won the XVII Julio Novillo Astrada Cup, La Aguada Polo Club's premier tournament, following the final that took place at the Novillo Astrada family's club, in Open Door, Argentina, on Monday December 14.
The competition featured four teams up to 22 goals, and the lineups included, among others, players of the Argentine Open such as Bartolomé Castagnola Jr., Guillermo Terrera, Alfredo Bigatti and Segundo Bocchino, as well as brothers Eduardo Jr. and Miguel Novillo Astrada and international patrons – Dillon Bacon (Great Oaks), Ernesto Gutierrez (La Ensenada), Federico Virasoro (El Caburé) and Luis Escobar (Santa Clara).
This is the summary of the awards presentation:
MVP: Guillermo Terrera
Best Mounted Player: Guillermo Terrera
Skeeter Johnston Fair Play Award: Ernesto Gutierrez
BPP River Slaney: Malaspina, played by Bartolomé Castagnola Jr.
BPP Polo Argentino: Chuna Afrodita (Hovecraft x Chalo Easy Love), played by Guillermo Terrera
PHOTO CREDIT: MATIAS CALLEJO.