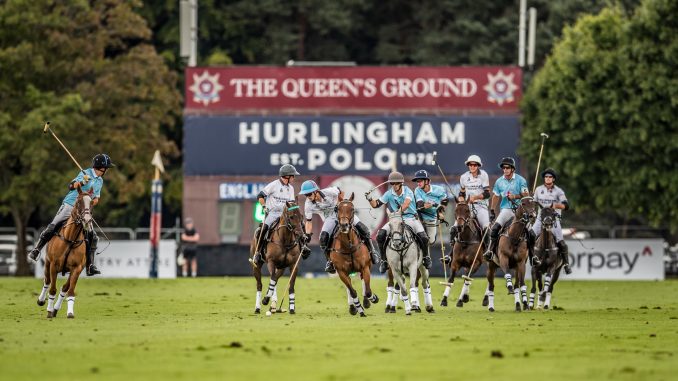 FOR POLO WITH KING OF GAMES INTERNATIONAL PARTNERSHIP
Oxfordshire UK April 03 2023
The Hurlingham Polo Association (HPA) are delighted to announce a long-term commercial partnership with King of Games International (KOGI) for its international events, the England polo teams, and professional umpires. KOGI will manage the appointment of sponsors, media, and brand partners and will implement HPA international polo events including hospitality and ticket sales.
This agreement will enable the HPA to have a more proactive approach to fielding teams internationally, including squad development and building the global presence and profile of the England teams. The HPA expects this stronger international presence to inspire the next generation of players, whilst bringing new interest into the sport and thereby enabling increased support for clubs, coaches, and players at every level. By utilising the commercial expertise of KOGI to deliver top-quality international fixtures, the HPA can dedicate their time to the elements core to the sport including player development, quality umpiring, coaching and welfare.
The relationship between HPA and KOGI is already well-established, and this new partnership builds on their successful lifestyle and clothing brand Hurlingham Polo 1875, which has developed significant relationships in China, Asia, the Middle East and other key global markets.
Anna Hall, CEO of HPA says, "Working with our longstanding development partner KOGI, this new agreement seeks to create a platform with huge potential for further commercial development of the sport. We are excited to showcase some of the best international polo, whilst at the same time bring our brand even closer to the game.
Simon Hawkins, CEO of KOGI says "Polo, is one of the world's oldest team sports, is growing in popularity across a broad demographic; there's a new world of opportunity out there to develop the game for players, sponsors, and spectators. Polo is played in over 70 countries worldwide, providing an international footprint with tremendous potential for commercialisation. This new agreement with HPA has fantastic potential to create more awareness of the Hurlingham Polo 1875 apparel brand and to energise this amazing sport in markets across the globe."