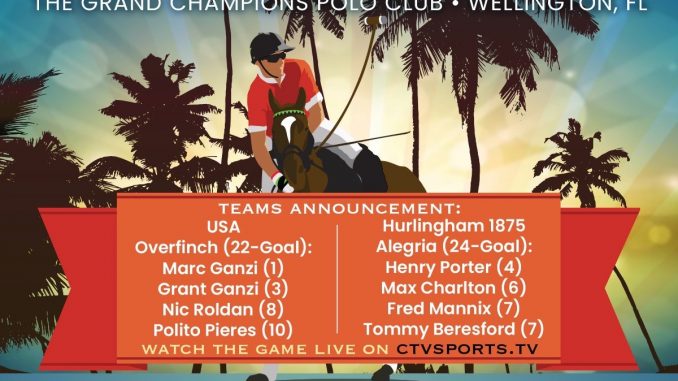 Hurlingham 1875 – Alegria takes on USA – Overfinch
Nic Roldan's Sunset Polo & White Party featuring a surprise Super Bowl Halftime Performer
WELLINGTON, FL – Friday, March 24, 2023, Sunset Polo International, a registered 501C3 organization, is hosting its annual Sunset Polo & White Party. "This annual event, serves as the cornerstone of the organization's annual charitable contribution, and we are happy to share this years' proceeds will benefit both the Wellington based Kids Cancer Foundation and the Polo Training Foundation, said Nic Roldan."
The gates open at 5:00PM on Friday, March 24th with arriving guests offered a glass of Folded Hills Lilly Rose and a kids eWheels game at 5:30PM, a new sport to help build and hone polo skills. The match will feature BrainJuice taking on the Grand Champions Polo Club for the Robert I. Goldman Sunset Polo Junior Cup.
Immediately following, 24-goal Hurlingham 1875 – Alegria will take on 22-Goal USA – Overfinch in a Sunset Polo match, with DJ Adam Lipson and friends spinning background beats. Hurlingham's 1875 Algeria team includes English players, Max Charlton, Tommy Beresford, Henry Porter and rounded out by Canadian Captain, Fred Mannix who will take on USA-Overfinch comprised of Polito Pieres, Nic Roldan and father and son duo Marc and Grant Ganzi.
When the chukkers end and the sun sets, the White Party will kick into high gear. The evening will include a traditional Argentine Asado, a fully stocked bar including: Nic Roldan's High Goal Gin, Tito's Handmade Vodka, South Beach Brewing Company, Chido, Brainjuice, Brugal 1888, and culminate with a surprise musical performance by a former Super Bowl Halftime performer. The game will be live streamed for all to follow on ChukkerTV. The event will be captured by eminent Palm Beach photographer Nick Mele.
Get tickets to join, Nic Roldan and Grant Ganzi for the sure to sell out, Sunset Polo & White Party at the Grand Champions Polo Club, benefitting the Kids Cancer Foundation and the Polo Training Foundation.