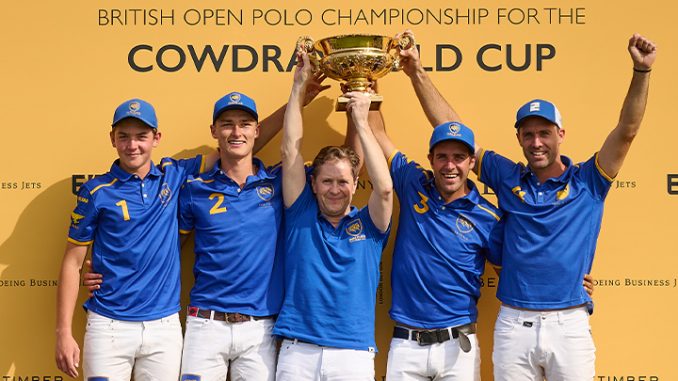 Park Place Raise the British Open Polo Championship for the Cowdray Gold Cup
The finale of the prestigious British Open Polo Championship for the Cowdray Gold Cup featured Park Place, in search of an elusive title against undefeated Dubai Polo Team on the famed Lawns Ground at Cowdray Park Polo Club.
In front of a large crowd, the two teams battled into the final chukka in a fast, entertaining match that featured few whistles and high-level polo. Conceding one-goal on handicap to begin the match, Park Place set the early tone with a dominant first chukka that began with Francisco Elizalde erasing the one-goal deficit on a Penalty 2 conversion. Picking the ball up on the nearside at midfield, Louis Hine ran the rest of the way for his first goal and quickly followed with his second goal to give Park Place the 4-1 lead. A long pass from Camilo Castagnola was finished by Matt Perry to get Dubai Polo Team on the scoreboard and it ignited a strong second chukka that included goals from Castagnola and Jeronimo Del Carril to tie the game at 4-all. The momentum swings continued as Park Place regained control with three consecutive goals to begin the third chukka and were steps from entering halftime with a significant lead, but Castagnola took the ball out of the air and ran it through the goal to bring Dubai Polo Team within two. Adding his second goal, Castagnola inched his team closer by halftime, but they remained trailing by one at 7:06 in favour of Park Place.

Playing one of his best matches of the season, Elizalde wove through the defense to score two minutes into the second half. Excelling alongside Facundo Pieres, Elizalde helped change the dynamic of the match as Park Place extended their lead to four due to an organized defensive effort that held Dubai Polo Team off the scoreboard in the fourth chukka. Determined to battle back into contention, Dubai Polo team turned to their own defense to prevent Park Place from scoring, while Camilo Castagnola added a goal and an assist to cut the deficit in half. With the help of his pony, the ball kicked forward and Castagnola fought off the defenders in front of goal to send the ball through the posts and raise the excitement field-side as Dubai Polo Team pulled within one. With two and a half minutes remaining, Park Place's Elizalde stole the ball on the sideboards and sent a pass to goal. On an impressive cutshot, Pieres scored the decisive goal and followed up with a Penalty 4 in the final seconds to secure the 12-9 victory and the British Open Polo Championship for the Cowdray Gold Cup title.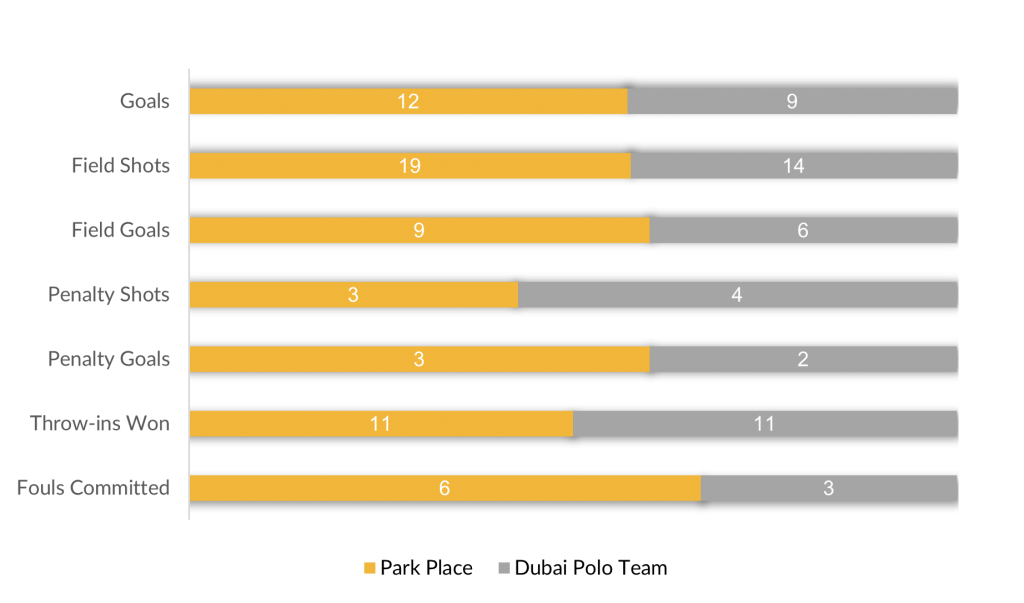 Photo Credit ©Mark Beaumont