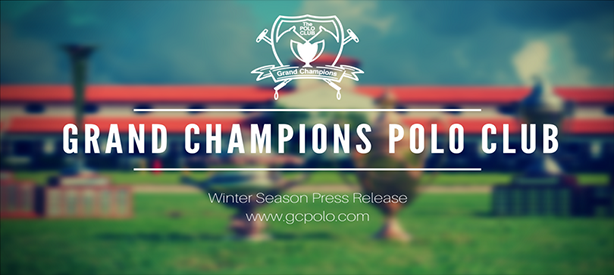 Palm Beach Equine Captures Santa Rita Abierto; Alejandro Novillo Astrada MVP; Spring Season Ends Monday With The Memorial At Grand Champions
Palm Beach Equine won its first tournament of the spring season Sunday at windswept Grand Champions Polo Club.
Santa Rita Abierto champion Palm Beach Equine players Alejandro Novillo Astrada, Brandon Phillips, Juan Bollini and Scott Swerdlin.
By: Sharon Robb
In front of a packed house, Palm Beach Equine (Brandon Phillips, 4, Juan Bollini, 5, Alejandro Novillo Astrada, 8, Scott Swerdlin, 0) won a hardfought 10-9 game against Audi (Lucas Lalor, 5, Sugar Erskine, 6, Marc Ganzi, 2, Jared Zenni, 6).
Audi teammates Marc Ganzi and Lucas Lalor double team Alejandro Novillo Astrada of Palm Beach Equine.
Argentine 8-goaler Alejandro Novillo Astrada scored the winning goal with 1:45 left in the game. Astrada finished with four goals and was named Most Valuable Player.
"I went to put pressure on Lucas and Marc and I got an open space and luckily I was able to score," Astrada said. "Marc was trying to hook me and it was a little difficult but it went in.
Two hands are better than one. Audi's Sugar Erskine works the ball with hidden teammate Jared Zenni backing him up.
"This is a very fun team to play with,' Astrada said. "I think we got along very well from the beginning. In our first game, once we started working as a team and did what we had to do for each other we played very well together."
Scott Swerdlin of Palm Beach Equine hits downfield with Jared Zenni of Audi defending.
When asked what the key to winning was, Swerdlin smiled and said "We put one more in than they did. You can't take anything for granted but that was a great goal by Astrada. There was no secret, everybody was marked up and fighting, every ball was hard."
Ava Maria, a 5-year-old mare played by Ganzi and owned by Spinacci, was Grand Champions Best Playing Pony.
Juan Bollini of Palm Beach Equine hooks Lucas Lalor of Audi.
Palm Beach Equine was making its second championship appearance this season. In the Spring Challenge Cup, Palm Beach Equine lost a 9-8 overtime game to Aspen Valley's Pablo Pulido, Juancito Bollini, Grant Ganzi and Alejandro Novillo Astrada.
Sugar Erskine of Audi works the sideboards.
"This team played amazing, it was great fun," Swerdlin said. "I want to thank Marc and Melissa Ganzi because without them I wouldn't have the opportunity to play this kind of polo. It's very generous of them to let us play with these kind of players that they have. It's great, it's exciting and it's fun."
Swerdlin, coming off three back procedures in April, was determined to compete during the spring season despite his doctor's suggestion to take it easy.
Scott Swerdlin of Palm Beach Equine rides off Lucas Lalor of Audi as he tries to hit the ball.
"I was getting better and took a chance," Swerdlin said. "The doctors told me to give up polo 20 years ago. So you know what I did, I gave up doctors."
The evenly-matched teams played entertaining, wide open polo for the crowd. Audi led 1-0 and 3-1 after two chukkers. Palm Beach Equine outscored Audi, 4-1, in the third chukker when Phillips got hot with three goals, and led 5-4 at the half.
Brandon Phillips of Palm Beach Equine drives downfield ahead of defender Jared Zenni of Audi.
In the second half, the teams played to a 2-2 tie in the fourth chukker with Palm Beach Equine still leading, 7-6. Palm Beach Equine had its biggest lead, 9-7, after the fifth chukker but Audi tied the game at 9-9 early in the final chukker with goals from Lalor and Erskine after a great pass from Zenni. After Astrada's game-winner, Audi had two final scoring opportunities that fell short.
"It was fun," Phillips said. "Juan and I have played together on-and-off for 15 years so it's fun to play with him. This is the first time I got to play with Negro which was great, he is a very good player. He is very easy to play with.
Scott Swerdlin of Palm Beach Equine and Marc Ganzi of Audi race to the ball.
"We all play pretty classic, there was no secret to us," Phillips said. "I know Juan is going to hit big so you find an open spot and he's good at being a quarterback and finding me. It was actually cool, on our set plays Negro was making holes for me to go through and Juan was finding me. It all worked well and Scott played great taking the man. He's gone against his doctor's wishes for years, why stop now?"
Phillips led Palm Beach Equine with a team-high five goals and finished with 10 goals in two games. Astrada had four goals and Bollini added one.
Juan Bollini of Palm Beach Equine goes for the big hit along the sideboards.
For Audi, Ganzi had a team-high five goals including four penalty conversions. Lalor and Erskine each had two goals.
In the Just For The Love Of It subsidiary final, tournament defending champion Dutta Corp (Kris Kampsen, 6, Carlitos Gracida, 4, Timmy Dutta, 2, Tommy Collingwood, 5) bounced back from Friday's loss to Palm Beach Equine, with an impressive 12-7 victory over Sebucan (Pablo Pulido, 2, Bauti Andrada, 1, Pablo Spinacci, 6, Nic Roldan, 8).
Carlitos Gracida of Dutta Corp gets wrapped up in his neck shot.
Sebucan led early in the game, 3-2 in the first and 4-3 after the second but a big 3-0 third chukker gave Dutta Corp a 6-4 halftime lead and they never trailed after that playing well as an unselfish, four-man team.
Dutta led scoring with a game-high five goals. Collingwood and Kampsen each had three goals and Gracida added one.
Timmy Dutta of Dutta Corp rides off Bauti Andrada of Sebucan.
Roldan led Sebucan with three goals. Pulido had two goals and Andrada and Spinacci each had one goal.
Last year's Santa Rita Abierto was won by Dutta Corp for the third time (Timmy Dutta, Lucas Diaz Alberdi, Piki Diaz Alberdi, Alex Webb) with a 7-4 victory over Sebucan (Josh Dubarry, Pablo Pulido, Alejandro Novillo Astrada, Julio Gracida) in a four-chukker lightning-abreviated championship final.
Tommy Collingwood of Dutta Corp goes to hook Nic Roldan of Sebucan.
The Santa Rita Abierto is named after Melissa Ganzi's grandmother, who passed away on December 29, 2012, in Wellington.
On Monday, The Memorial will feature Grand Champions U.S. against Grand Champions Rest of The World at 10 a.m.
Pablo Pulido of Sebucan works the ball on the near side with Kris Kampsen of Dutta Corp defending.
The rosters are: Grand Champions U.S.: (23) Grant Ganzi, 3, Sugar Erskine, 6, Jared Zenni, 6, Nic Roldan, 8, and Grand Champions Rest of the World: (20) Pablo Pulido, 2, Brandon Phillips, 4, Pablo Spinacci, 6, Alejandro Novillo Astrada, 8.
Carlitos Gracida of Dutta Corp works the ball out of the air with teammate Kris Kampsen backing him up.
Winners of this season's first three spring tournaments were Dutta Corp (Timmy Dutta, 2, Carlitos Gracida, 4, Kris Kampsen, 6, Jared Zenni, 6) in the Sun Cup for a club record fourth time; Aspen Valley (Pablo Pulido, 2, Juancito Bollini, 4, Grant Ganzi, 3, Alejandro Novillo Astrada, 8) in the Spring Challenge Cup; and Sebucan (Pablo Pulido, 2, Juancito Bollini, 2, Pablo Spinacci, 6, Jarred Zenni, 6) in the Polo Gear Challenge Cup. The first two tournament finals went into overtime.
Nic Roldan of Sebucan works the nearside shot with Timmy Dutta of Dutta Corp on his hip.
The spring season is being live-streamed on Wellington-based ChukkerTV.
Grand Champions fall, winter and spring tournaments attract a large international field of players from all corners of the world including India, Mexico, New Zealand, Chile, Costa Rica, Argentina, Canada, Ecuador, Brazil, Switzerland, France, Germany, Uruguay, Azerbaijan, Australia, South Africa, Nigeria, Venezuela and England.
Pablo Spinacci of Sebucan defends as Carlitos Gracida of Dutta Corp reaches out of the saddle for the ball.
Grand Champions and Santa Rita Polo Farm is the largest and most unique polo facility in Wellington with 120 stalls in five self-contained barns, exercise track, five climate-controlled tack rooms, vet room, staff quarters, guest house and three polo fields with state-of-the-art underground irrigation including one field for stick-and-ball with plans to build more polo fields in the future.
Grand Champions Polo Club and Santa Rita Polo Farm caters to men, women and youth polo players at all levels and ages. Its' expert staff can customize a complete playing experience including horses, pros and certified umpires in addition to lessons and practice sessions as part of its' Polo On Demand program, created by Grand Champions President Melissa Ganzi when the club first opened in 2007.
Santa Rita Abierto finalists Palm Beach Equine and Audi with awards presenter Cecilia Bollini.
The Polo School, a stand-alone USPA-sanctioned polo club, is dedicated to teaching polo to all ages, particularly grass roots youth. Its mission is to provide individuals opportunities in polo at every economic and ability level. Scholarships are available. The Polo School operates in Wellington January through May and September through November. Headed by Director of Operations Juan Bollini, The Polo School has nurtured several men and women polo players now playing in the pro and amateur ranks since its inception.
Grand Champions awards table for the Santa Rita Abierto.
Photos by Candace Ferreira
MAY
24-26: The Memorial
Monday 5/27
The Memorial Final
10 a.m. Grand Champions U.S. vs Grand Champions
Rest of The World
Games played at Grand Champions and Santa Rita Polo Farm.