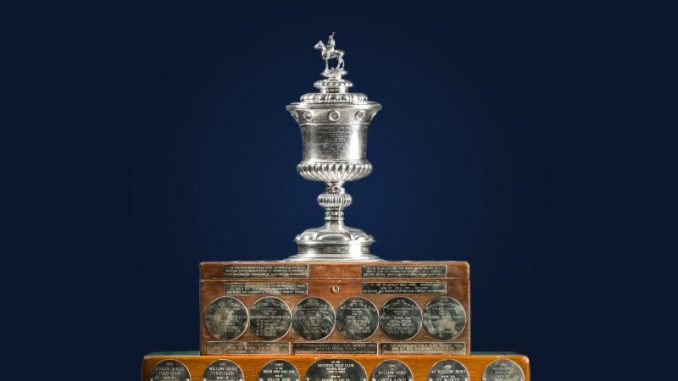 Audi, Casablanca, Tonkawa Win Thrillers On Opening Day Of 119th USPA Silver Cup; Action Continues Wednesday
On a historical day for Aspen Valley Polo Club, the 119th USPA Silver Cup opened Saturday with three action-packed games.

By Sharon Robb

In front of a good local crowd and worldwide USPA Polo Network audience at McClure River Ranch, Audi, Tonkawa and Casablanca won bracket game openers.
Alejandro Novillo Astrada of Flexjet works the nearside shot with Mason Wroe of Tonkawa on his hip.
With 30 seconds left, Sapo Caset stole the ball and scored the winning goal to lead Tonkawa (Jeff Hildebrand, 0, Juan Martin Obregon, 5, Sapo Caset, 10, Mason Wroe, 4) to an 11-10 victory over Flexjet (Melissa Ganzi, 0, Gussie Busch, 2, Hilario Ulloa, 10, Alejandro Novillo Astrada, 8) in the opening game.
Alejandro Novillo Astrada of Flexjet hooks Juan Martin Obregon of Tonkawa.
In the second game, Hilario Figueras converted a clutch penalty shot in the final minute as Audi (Marc Ganzi, 2, Hilario Figueras, 3, Nic Roldan, 8, Jared Zenni, 6) held off a late-charging La Karina (Brian Boyd, 0, Carlitos Gracida, 4, Sebastian Merlos, 8, Tincho Merlos, 8) for a 10-9 victory.
Hilario Ulloa of Flexjet tries to break away from Mason Wroe of Tonkawa.
Trailing for most of the game, Casablanca (Grant Ganzi, 3, Lucas Lalor, 5, Nacho Novillo Astrada, 8, Juancito Bollini, 4) rallied in the final chukker for a 12-11 triumph over McClure River Ranch (Salvador Lockey, 2, Stewart Armstrong, 3, Kris Kampsen, 6, Alfredo Bigatti, 8) in the third and final game.
Gussie Busch of Flexjet works the ball downfield ahead of two defenders.
On Wednesday, Audi (1-0) plays at Tonkawa (1-0) at 10 a.m.; La Karina (0-1) plays McClure River Ranch (0-1) at 1 p.m. and Casablanca (1-0) plays Flexjet (0-1) at 3 p.m. The last two games will be held at McClure River Ranch.
Tonkawa's Sapo Caset makes his way through Flexjet defenders Hilario Ulloa and Alejandro Novillo Astrada.
Opening day action lived up to expectations despite two weather delays in the second and third games.
With two aggressive 10-goalers in the lineup, Flexjet and Tonkawa were evenly-matched from the opening throw-in. Tonkawa opened with leads of 3-1 and 4-2, but Flexjet bounced back with a 3-1 third chukker for a 5-5 halftime tie.
Sapo Caset of Tonkawa goes for the big hit with with Hilario Ulloa of Flexjet defending.
Flexjet had its biggest lead, 7-5, after Busch scored with 3:22 left in the fourth chukker, but missed a penalty conversion and uneven rideoff penalty opened the door for Tonkawa to finish the chukker tied at 7-7 after an Obregon penalty-three conversion and Caset goal.
Tonkawa teammates Juan Martin Obregon and Sapo Caset in the
players' tent between chukkers.
The lead changed hands three times in the fifth chukker with Tonkawa leading, 9-8. Tonkawa pulled away with a 10-8 lead early in the sixth chukker. Flexjet worked its way back when Ulloa stole and ball and worked his way between Caset and Obregon for a goal and Astrada converted a penalty-three to tie 10-10 before Caset came up with the game-winner.
Caset scored a team-high five goals, Obregon had three and Hildebrand added two. Tonkawa, a 19-goal team, picked up one goal on handicap. Ulloa scored a team-high five goals, Astrada had four and Busch had one.
Fans enjoy opening game action of the 119th USPA Silver Cup in the new stadium seating at McClure River Ranch.
In a wild finish that included an hour weather delay for lightning, Audi maintained its composure with the game tied 9-9 with 2:18 left to knock off reigning USPA North American Cup champion La Karina.
Brian Boyd of La Karina stretches to hook Nic Roldan of Audi.
Audi, leading 9-8 and playing without Ganzi (two yellow cards) for two minutes, kept its poise when La Karina, trailing 6-1 after two chukkers, tied the game at 9-9 on Tincho Merlos' 40-yard penalty conversion with 2:18 left in the game.
Tincho Merlos of La Karina defends Marc Ganzi of Audi.
With a minute left, Roldan and Zenni looked to Figueras for the game-winning penalty conversion. Figueras then went on the defensive and came back with another key back shot save on Sebastian Merlos' goal attempt. Zenni and Roldan then took turns running out the clock.
Roldan led Audi with a game-high five goals. Figueras had two goals and Zenni added one. The 19-goal team also had a penalty-one and one goal on handicap. Tincho Merlos had a team-high four goals and Carlitos Gracida added three. Boyd and Sebastian Merlos each had one goal.
Jared Zenni of Audi scores off the near side with Carlitos Gracida of La Karina defending.
In another exciting finish, Casablanca, trailing 5-1 and 6-1 after the first two chukkers, started reeling in McClure River Ranch in the third chukker. After a 15-minute rain delay, Casablanca trailed 7-4 at the half and trailed by only one, 10-9 after five chukkers.
Jared Zenni of Audi stride-for-stride with Sebastian Merlos of La Karina.
Ganzi's 50-yarder tied the game at 10-10 followed by a penalty-one on an uneven rideoff when Astrada had control of the ball to give Casablanca the lead, 11-10, for the first time in the game.
Kampsen tied the game back at 11-11 when he stole the ball and scored with 2:30 left. After McClure River Ranch lost its challenge on a penalty call, Bollini converted a penalty-two to retake the lead, 12-11. On the next series of plays, Ganzi stole the ball and then took turns with Astrada to run out the clock.
The race is on between Nic Roldan of Audi and La Karina's
Brian Boyd and Sebastian Merlos.
Astrada led Casablanca with a game-high five goals. Bollini had four goals and Ganzi added two. Bigatti and Kampsen each had four goals for McClure River Ranch. Lockey and Armstrong each had one.
The club's second USPA 20-goal tournament of the summer season features six teams and several of the world's top polo players in its historical debut at Aspen Valley Polo Club.
Nic Roldan of Audi tries to ride off Sebastian Merlos of La Karina as he hits.
The 119th USPA Silver Cup has a rich tradition in history. It is considered the oldest of all American tournaments. The event has been called several names throughout its hallowed history. Originally established by the USPA as the Junior Championship, it was first played in 1900 close to the New York City birthplace of American polo.
Hilario Figueras of Audi avoids the hook of Brian Boyd of La Karina.
The Cup was later renamed in 1938 to the Twenty-Goal Championship and played until 1951. The Trophy went on hiatus from 1942 to 1947 because of the effects on polo during and immediately after World War II.
It was not until 1974 that the tournament took its present name and was hosted in Texas. The Cup winners have been a Who's Who in polo from J. Watson Webb and Tommy Hitchcock to Robert Skene, George Oliver, Memo Gracida, Carlos Gracida, Tommy Wayman, Red Armour, Harold Barry, Joe Barry, John Armstrong, Charles Smith, Cecil Smith, William Ylvisaker, Adam Snow, Mike Azzaro, Mariano Aguerre and Adolfo Cambiaso, who won in 2012.
Nacho Novillo Astrada of Casablanca goes to hook Kris Kampsen of McClure River Reach.
Several high-profile polo clubs have hosted the coveted Cup in New York, Illinois, Texas, South Carolina, Connecticut and California. From 2011-2106 it was hosted by Santa Barbara Polo & Racquet Club and 2017-18 at Greenwich Polo Club.
U.S. Polo Assn., the official brand of USPA, is the prestigious tournament's official apparel sponsor. The tournament is being live streamed by USPA Polo Network on uspolo.org .
Alfredo Bigatti of McClure River Ranch tries to hit out of a crowd.
In bracket play, Division I teams play one game against each Division II team. After the division games, the teams will be ranked first through sixth with the top four teams advancing into the semifinals. For the semifinals, the No. 1 ranked team plays the No. 4 ranked team and No. 2 ranked team will play the No. 3 ranked team.
The two semifinal matchups are Aug. 7 at 11 a.m. and 1 p.m. with the winners advancing into the Aug. 11 championship at McClure River Ranch.
Juancito Bollini of Casablanca works the sideboards.
The final will be paired with the annual Chukkers, Champagne & Caviar fundraiser. The club's summer marquis charity event, hosted by club owners Marc and Melissa Ganzi and Aspen Valley Hospital Foundation, has raised more than $1 million dollars in the last two years to benefit Aspen Valley Hospital Foundation.
The event is sold out according to Andrea Olson, marketing coordinator for the Aspen Valley Hospital Foundation. Please call 970-544-1302 to be placed on a waiting list.
Casablanca defenders Grant Ganzi and Juancito Bollini double team
Alfredo Bigatti of McClure River Ranch.
Last year's 119th USPA Silver Cup champion was undefeated Huntsman (Segundo Merlos, Tomas Garcia Del Rio, Toro Ruiz, Dillon Bacon), 10-8 winners over Postage Stamp Farm (Annabelle Gundlach, Brandon Phillips, Mariano Gonzalez, Marcos Garcia Del Rio) at Greenwich Polo Club. Marcos Garcia Del Rio of Postage Stamp Farm, brother of Tomas Garcia Del Rio, was named Most Valuable Player.
Lucas Lalor of Casablanca works the ball downfield with Alfredo Bigatti
of McClure River Ranch close behind.
The 119th USPA Silver Cup is the sixth tournament of eleven grass tournaments and three arena tournaments being staged at AVPC in what is expected to be its best season featuring six 20-goal teams and four 16-goal teams.
Coming off its most successful summer season, Aspen Valley Polo Club lined up a star-studded roster of players to compete with and against patrons and amateur players.
Casablanca teammates Juancito Bollini and Nacho Novillo Astrada surround Kris Kampsen of McClure River Ranch.
The first five tournament winners of the 2019 summer season were: Piocho Ranch (Gussie Busch, Nacho Figueras, Tom Barrack, Alejandro Novillo Astrada), Basalt Handicap; La Karina (Brian Boyd, Carlitos Gracida, Sebastian Merlos, Kris Kampsen), USPA North American Cup; Mountain Chevrolet (Michael Payne, Grant Ganzi, Juancito Bollini, Nacho Novillo Astrada), ChukkerTV Challenge; Los Amigos Red (Hilario Figueras, Paul Foster, Lucas Lalor, Nacho Novillo Astrada), Craig Sakin Memorial; Piocho Ranch (Tom Barrack, Gabriel Gracida, Nacho Figueras, Salvador Ulloa), the season-opening Independence Cup winners.
Nacho Novillo Astrada of Casablanca reaches to hook Stewart Armstrong
of McClure River Ranch.
Other summer highlights are the July 30-August 6 USPA National Arena Handicap, Aug. 7-14 Arena World Cup and Sept. 1-8 Triple Crown of Polo.
With the majestic 12,965-foot summit of Mount Sopris as a backdrop, Aspen Valley Polo Club is one of the busiest and fastest growing USPA-sanctioned clubs in the nation with a membership increase of 75 percent over four seasons.
Grant Ganzi of Casablanca defends Kris Kampsen of McClure River Ranch.
Since Marc and Melissa Ganzi founded the club in 2014, polo has increased in popularity in Aspen and surrounding cities with the club's offerings of various weekly grass and arena tournaments, Tuesday Arena & Asado Nights, Kidz Polo, The Polo School headed by former 8-goaler Juan Bollini, and Polo On Demand. In addition, the club offers practice sessions for teams competing in the weekend tournaments.
Aspen Valley Polo Club has had a positive impact in the area hosting kids polo camps, teaching lessons and several charitable events at the club that have benefitted local charities.
A rainbow during the third game was a nice backdrop for the 119th USPA Silver Cup.
Photos for First Game by Candace Ferreira/Aspen Valley Polo Club
Photos for Second and Third games by Nick Tininenko/Aspen Valley Polo Club
The Ganzis are avid players and patrons and "have created a polo paradise" according to Piocho Ranch padron Tom Barrack. "You can go all over the world but you can't have these kind of people, players and horses in this setting. It's really a gift." Players, sponsors, community leaders and fans share Barrack's sentiments.
All ages are welcome to enjoy polo at Aspen Valley Polo Club. Admission, food and refreshments are free for fans in a relaxed, laidback atmosphere. An added feature is the club's Jumbotron which made its debut last summer for the fans' enjoyment, Aspen Valley Polo Club Boutique and new electronic scoreboard.
2019 Aspen Valley Polo Club Summer Polo Series
July
Emma Challenge
Sunday 7/28
12 p.m. Emma Challenge Final
Los Amigos Red vs Mountain Chevrolet vs Los Amigos Blue
USPA Silver Cup
Wednesday 7/31
10 a.m Audi vs Tonkawa at Tonkawa
1 p.m La Karina vs McClure River Ranch at McClure River Ranch
3 p.m. Casablanca vs Flexjet at McClure River Ranch
Saturday 8/3 at McClure River Ranch
10 a.m. Tonkawa vs McClure River Ranch
1 p.m. La Karina vs Flexjet
3 p.m. Casablanca vs Audi
Wednesday 8/7
11 a.m. & 1 p.m. USPA Silver Cup Semifinals
at McClure River Ranch
Sunday 8/11
at Aspen Valley Polo Club
USPA Silver Cup Final and Chukkers, Champagne and Caviar Fundraiser
USPA National Arena Handicap
Tuesday 7/30 at Aspen Valley Polo Club
Semifinals
TBA Casablanca vs McClure River Ranch
TBA Flexjet vs Audi
Tuesday 8/6 at Aspen Valley Polo Club
Finals
ChukkerTV Arena Challenge July 30
August
High Alpine Cup 8/2 – 8/4
Arena World Cup 8/7 – 8/14
Rocky Mountain Open 8/9 – 8/17
Mount Sopris Cup 8/16 – 8/18
Carbondale Classic 8/23 – 8/25
2019 PoloFest Denver 8/31
September
The Triple Crown of Polo Trophy 9/1 – 9/8
All game time are MST