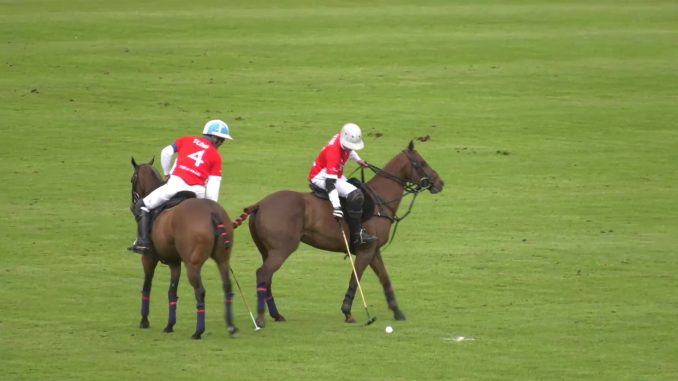 Scone Edges MT Vikings in the Justerini & Brooks Prince of Wales Trophy
The lone game on Saturday in the 2021 Justerini & Brooks Prince of Wales Trophy featured Scone's Adolfo and Poroto Cambiaso returning to high-goal play for the first time since capturing the U.S. Open Polo Championship®, defeating MT Vikings 10-9.

The final two teams to make their debut in the tournament, Scone and MT Vikings battled into the final moments of the game in a match decided on the penalty line. With only 42% of the goals in the game coming from the field, Scone produced a second half comeback by holding MT Vikings without a field goal over the final three chukkas and relying on the penalty shooting of Isidro Strada, who converted six of his nine attempts. MT Vikings' duo of Juan Martin Zubia and Sebastian Merlos accounted for eight of their team's nine goals, but foul trouble resulted in the one-goal difference in Scone's 10-9 victory.
MT Vikings struck first on a goal from Zubia in what became a fast-paced opening chukka. Gaining possession from the throw-in line allowed Scone to provide a response, receiving goals from Poroto Cambiaso and Strada, but MT Vikings quickly regained the lead before the end of the chukka. The pace of the game slowed as Scone brought the game even at 4-all from the penalty line on two conversions from Strada. As halftime approached, MT Vikings' duo of Zubia and Merlos combined for three goals, including two field goals from Merlos to hold the 7-5 lead.
Foul trouble for MT Vikings switched the momentum to Scone, where they received four penalty attempts in the fourth chukka. Converting two of the four, Strada once again restored the tie while MT Vikings struggled to maintain any possession in a scoreless chukka. Receiving penalty opportunities of their own, the game was ultimately being decided from the penalty line as MT Vikings pushed back ahead by two on consecutive Penalty 2 conversions. Remaining strong defensively throughout the game, Adolfo Cambiaso made his impact in the fifth chukker with back-to-back goals, leaving the score tied entering the final chukka. Controlling possession, Scone continued to pressure MT Vikings in the attacking half and despite first missing a Penalty 4 attempt, Strada sealed Scone's 10-9 victory with a Penalty 2 conversion in the final moments.