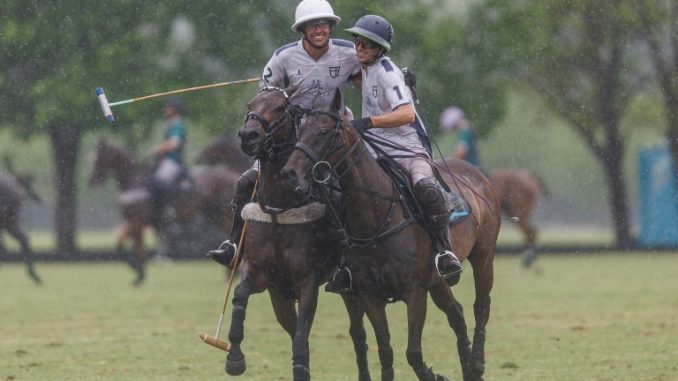 On Monday 23/10 and under heavy rain, the decisive matches of the Qualifying Tournament for the Remonta and Veterinaria Cups were played at the Alfredo Lalor Headquarters that provides two places for the 130th HSBC Argentine Polo Open.
In the first round, on court N°1, La Esquina beat La Cañada LE by 12-9 and thus won the Veterinary Cup and qualified to play in Zone A of the Palermo Open along with La Dolfina Saudi, La Hache La Roca, Cría La Dolfina and La Hache Cría & Polo.
Then, on field 2, El Overo Z7 UAE defeated La Irenita II 11-7, was crowned winner of the Copa Sube and achieved its pass to Zone B of the 130th Abierto Argentino HSBC, where it will face La Natividad, Ellerstina Yellow Rose, La Ensenada Brubank and La Irenita Clinova.
Teams and progressions:
VETERINARY CUP
La Esquina: Pascual Sáinz de Vicuña 6, Cristian Laprida (h) 8 (2 goals), Lucas James 7 (1) and Ignacio Laprida 8 (9, six penalties). Total: 29.
La Cañada LE: Facundo Llosa 7 (4, two penalties), Lucas Díaz Alberdi 7 (3), Tomás García del Río 7 (1) and Pedro Falabella (h) 7 (1). Total: 28.
La Esquina: 3-0, 5-1, 6-4, 7-4, 9-6, 12-7 and 12-9.
Judges: Gastón Lucero and Martín Aguerre. Arbitrator: Hernán Tasso.
COPA COMES BACK
The Overo Z7 UAE: Lucas Monteverde (n) 7, Victorino Ruiz Jorba 7 (2), Cruz Heguy 7 (7, two penalties) and Teodoro Lacau 7 (2). Total: 28.
The Irenite II: Valerio Zubiaurre (h) 7 (He was replaced by Federico Panzillo 6 at the start of the fifth chukker), Juan Jauretche 7 (1), Matías Mac Donough (h) 6 (5, three penalties) and Alfredo Cappella Barabucci 8 (1). Total: 28.
El Overo Z7 UAE: 1-1, 2-2, 5-3, 7-3, 7-5, 9-7 and 11-7.
Judges: Matías Baibiene and Gonzalo López Vargas. Arbitrator: Martín Aguerre.
The other formations that participated:
Joy: Rufino Bensadón 8, Benjamín Panelo 7, Santiago Cernadas 7 and Frederick Mannix (h) 7. Total: 29.
The Fix: Manuel Elizalde 7, Ezequiel Martinez Ferrario 7, Mariano Gonzalez (Jr.) 7 and Tomas Beresford 7. Total: 28.
Don Ercole: Segundo Bocchino 7, Kristos Magrini 6, Felipe Vercellino 7 and Santiago Toccalino 8. Total: 28.
Our Land Clinova: Alejandro Muzzio 8, Santiago Loza 7, Santiago Laborde 6 and Jared Zenni 7. Total: 28.
Canyons: Pedro Zacharias 8, Gonzalo Ferrari 6, Rodrigo Ribeiro de Andrade 8 and Santos Merlos 6. Total: 28.