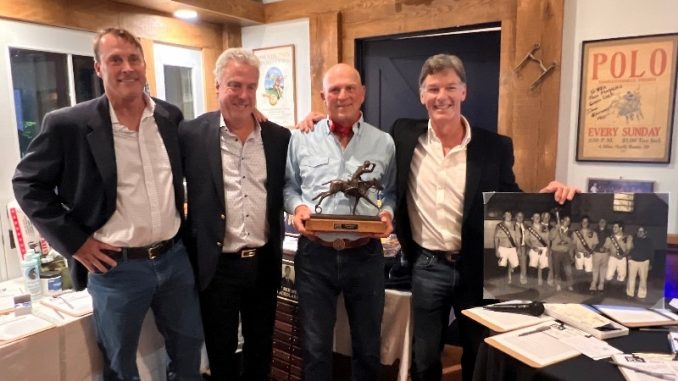 The Rinehart family's name is synonymous with the Virginia Polo Club; since the club's beginning in 1953 the Rineharts have helped the club establish itself and thrive, supporting players along the way. Rob Rinehart continues to carry on the family tradition of dedication and support to Virginia Polo.
On October 14th at the 70th Anniversary dinner dance Rob was presented the Cavalier Award by his 1987 Championship team of Tom Huber, Derek Sifton, and Mark Egloff. Rob coached the UVA polo team of Tom, Derek, and Mark (pictured above), and Batchy Carpenter to this landmark victory over Skidmore in 1987, earning Virginia Polo's first National Championship win. Rob's significance to these players was so great they traveled to the 70th anniversary for the honor of presenting him with the award and spoke on his significance to the win and to their time at UVA and Virginia Polo. Hot on the heels of the first National Championship, Rob's team again won the NIC tournament in 1988, this time with Tom Huber, Derek Sifton, Dana Fortugno, and Jim Dunlap, making history for the Virginia Polo Club.
Since his youth Rob Rinehart has been a familiar figure at Virginia Polo, first at the club's original home Brook Hill Farm with his father where Rob began by walking hot ponies at games for the players. Later Rob attended UVA and competed on the team until his graduation in 1974.
Throughout the 1980's Rob volunteered his time as the Club's coach, while working full time, playing polo himself, and raising a family. Along with coaching, Rob and his family were supportive figures to the student polo players, as was evidenced by the moving speeches his 1987 team made at the 70th event.
Once Virginia Polo hired the first coach in the early 1990's Rob served in an advisory capacity on the alumni Board of Directors. He was elected to the Chairman position and led the board in its governance of the nonprofit Club for many successful years as the club fundraised and grew.
Rob continues to be a familiar face at Virginia Polo, helping to teach new generations of UVA polo players. During the summer Rob is an instructor for the Virginia Polo Interscholastic Clinics, honing the skills of talented high school players from across the country in their swings, techniques, and riding.
Current players, both high school and college, enjoy his instructions and getting the occasional opportunity to stick and ball with him.
For his many years of volunteer coaching, instruction at clinics, time on the board, past chairmanship, and help instructing players to this day, we are delighted to honor and acknowledge Rob Rinehart as the 2023 Cavalier Award Recipient.
Congratulations Rob!!