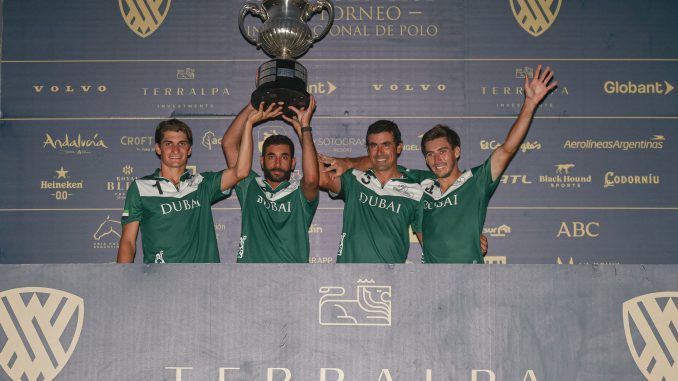 DUBAI WAS CONSECRATED CHAMPION OF THE HIGH GOAL TERRALPA SILVER CUP
(San Roque, August 13, 2022) A great final of the High Goal Terralpa Silver Cup was played this
Saturday by the teams from Dubai and Dos Lunas La Hacienda, which kept everyone on edge until
the very end of the sixth chukker, when Camilo Castagnola, the best player in the definition, scored
the winning goal right at the goal where the palenques were installed, to celebrate with his people
and sentence the final result, 11 to 10. Dubai became champion in the second stop of the 51st
Sotogrande International Polo Tournament. It is also worth congratulating the Dos Lunas La
Hacienda team, who played a very unique game system throughout the tournament, and was very
close to lifting the Trophy.
In turn, and in the definition of the Low Handicap, Cotton House managed to beat Águilas, who
came to this final undefeated, and beat him 13 to 8. It was the second consecutive title for the
winning team, since they had also just celebrated just two weeks ago in the Volvo Bronze Cup. In
the morning, Santa Quiteria won the Blackhound Cup after beating El Milagro.
After the matches, it was time for the awards ceremony, which was attended by, in addition to the
players involved, Juan Carlos Ruiz Boix, President of the Provincial Council of Cádiz and Mayor of
San Roque; Ramón Hermosilla and Marcos Nuñez, representing Terralpa; Antonio Delgado Carmona,
National Responsible for COVAP; the artist Alejandro Moy; and María Cruz Conde, from Covetsol.
THE HIGH HANDICAP OF THE 51ST INTERNATIONAL POLO TOURNAMENT IN SOTOGRANDE, PLUS
THE DEFINITIONS OF THE MEDIUM HANDICAP, CAN BE SEEN LIVE, OPEN TO THE WHOLE WORLD,
ON POLOLINE TV, THROUGH THIS LINK.
The detail of the day played on Saturday, August 13 was as follows:
FINAL COPA DE PLATA TERRALPA DE ALTO HÁNDICAP
DUBAI 11-10 DOS LUNAS LA HACIENDA
DUBAI: Camilo Castagnola 9 (10 goles), Rashid Albwardy 1 (1), Matías Machado 5, Carlos María Ulloa
5. Total: 20.
DOS LUNAS LA HACIENDA: Pascual Sainz de Vicuña 5 (2 goles), Luis Domecq 2, Joaquin Pittaluga 7
(6), Cruz Heguy 6 (2). Total: 20.
Progresión Dubai: 1-2, 5-4, 6-6, 7-8, 9-10, 11-10.
Umpires: Gastón Lucero & Peter Wright. Árbitro: Federico Martelli.
MVP: Camilo Castagnola.
BPP Aguante Coco, montado por Joaquín Pittaluga.
BPP BY la Asociación Argentina de Criadores de Caballos de Polo: Vasca Manau, montado por Cruz
Heguy.
Fair Play: Carlos María Ulloa.
FINAL COPA DE PLATA TERRALPA DE BAJO HÁNDICAP
COTTON HOUSE 13-8 ÁGUILAS
COTTON HOUSE: Jose Trenor (h) -1, Jose Maria Trenor 1, Benjamin Araya (h) 5, Mario Gómez 3.
Total: 8.
AGUILAS: John Buchan -1, Segundo Fernandez Llorente 4, Ezequiel Zubiaurre 5, Beau Buchan 0.
Total: 8.
Progresión Cotton House: 3-1, 6-2, 9-3, 11-7, 13-8.
Umpires: Martín Goti & Santos Anca. Árbitro: Matías Baibiene.
MVP: Benjamín Araya (h).
BPP: Nonthue Carnaval, montado por Benjamín Araya (h).
Fair Play: Beau Buchan.
FINAL COPA BLACKHOUND
SANTA QUITERIA 12-4.5 EL MILAGRO
SANTA QUITERIA: Germán López Madrid 0, Gonzalo Entrecanales 2, Jose Manuel Entrecanales 2,
Pedro Soria 4. Total: 8.
EL MILAGRO: Catalina Tomasevich 0, Nicolás Tomasevich 0, Federico Tomasevich 1, Santiago Solari
6. Total: 8.
The 51st Sotogrande International Polo Tournament will continue on Monday, August 15 with
the start of the Globant Gold Cup, which will be attended by 21 teams, divided into 3
categories: High, Medium & Low Handicap. The finals are scheduled to take place between
August 26 and 27.