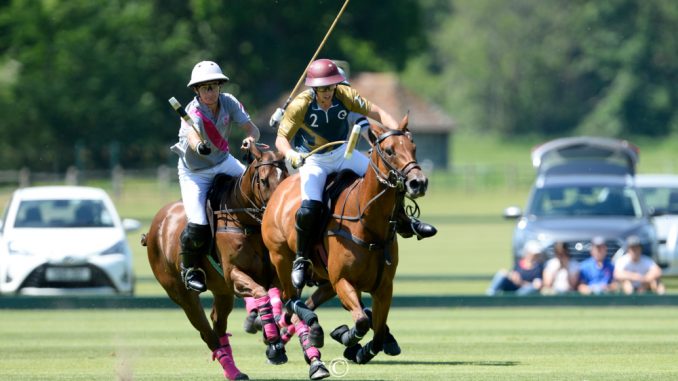 Talandracas 14 – 13 Murus Sanctus-La Magdeleine
Great Oaks LL 16 – 5 Emlor
The first games of the 2021 edition of the Cartier Queen's Cup got underway today and they could not have been more different. Edouard Carmignac's Talandracas won the first game 14-13 at Cowdray Park but had to fight a resurging Murus Sanctus-La Magdeleine in the final chukka. Talandracas were without Carmignac but his place was taken by the young Max Voelker who returned the team's confidence in him by scoring three goals. Camilo "Jeta" Castagnola fired through most of Talandracas's goals, including the final spot hit when the scores were tied and the first bell had rung. Facundo Sola, Guillermo "Sapo" Caset and Matt Perry had put Murus Sanctus – La Magdeleine ahead in the first two chukkas and this team were 6-4 going into the third. However, their failure to score in the third and fourth chukkas allowed Talandracas to first level, then take the lead and eventually win this game by just one goal.
Attention moved to the Duke's Ground at Guards Polo Club for the second game featuring the current holders of the cup, Great Oaks LL versus Emlor. This game was more tense than the morning match though and a yellow card early on highlighted that. Dillon Bacon's Great Oaks team were 7-4 up at half-time and they just pulled away further in the second half. Spencer McCarthy's Emlor had moments of brilliance, such as Alfredo Bigatti's neck shot to goal in the second , but had no consistent answer to Great Oaks LL's impressive four-man polo. Dillon Bacon himself fired through a couple of goals in the second, while the exciting new partnership of Barto Castagnola – Jeta's older brother – and Cruz Heguy is one to watch.
Of course, this is only day one and there are 28 more league games to play before we get to the quarter-finals. However, it was wonderful to see such competitive high-goal, played in warm sunshine and in front of some spectators at last.
Images copyright Images of Polo