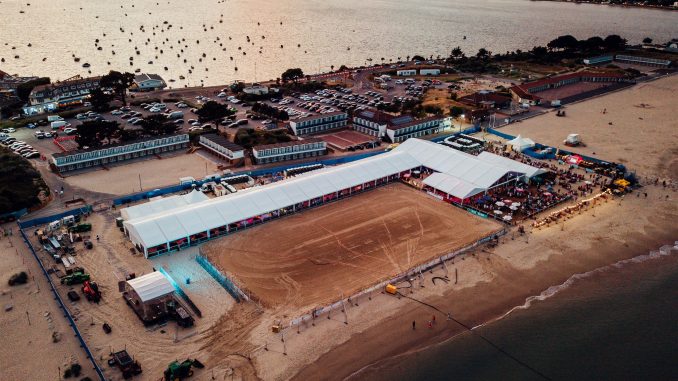 July 11th 2022
Sandpolo 2022: Scorching Action at The British Beach Polo Championships 15th Anniversary weekend.
The British Beach Polo Championships, also known as Sandpolo celebrated its 15th Year Anniversary on the sun-drenched blue flag beach in Sandbanks, Dorset this weekend. Blessed with incredible weather the spectators enjoyed a dynamic display of fast paced beach stadium polo over the two-day tournament.
Team Whispering Angel, (Chris Gregory, Adolfo Casabal & Hazel Jackson), retained their title again this year, battling it out against Team Singha, (Garrie Renucci, Ollie Cork & Jimmy Wood).
Spectators were treated to fast paced polo and exceptional horse power in the beach arena with one of the best British polo layers, team Whispering Angel's Hazel Jackson, excelling on the sand with skill and agility. It was the teams' dominant performance that put them ahead both days with a 19 – 11 victory.
Commentary came from Chris Hyde, the most highly decorated UK arena polo player along with the charismatic Simon Ledger.
The U.S. Polo Assn. returned as the official apparel partner with their President of USPA Global Licensing, which manages the global, multi-billion-dollar U.S. Polo Assn. brand J. Michael Prince, enjoying the action and presenting the winning trophy. He said: "The UK has been one of U.S. Polo Assn.'s most loyal and fastest growing markets, and it's great to be back supporting these exciting British Beach Polo Championships. Sandpolo is not only great fun, but it's a wonderful way for us to expose new polo fans and consumers to the sport and our global brand."
Johnny Wheeler, Sandpolo founder said: "This was a magnificent 15th Year at Sandbanks and evidence that a day on the beach watching polo with friends, family and colleagues and then dancing the night away is an incredible experience. The players, sponsors and supporters have made it a wonderful summer 'go to' event.'
Sandpolo attracts approx. 8000 people each year. The entertainment off the polo pitch is vital to its success with glamorous parties on both nights enjoyed by players and supporters alike. Blessed with a superb beach and surrounding area, loyal supporters and the most talented polo players, there is no reason why it should not continue for another 15 years.
The British Beach Polo Championships will return in 2023 on July 7th / 8th.
Photographer credit: James Bridle.