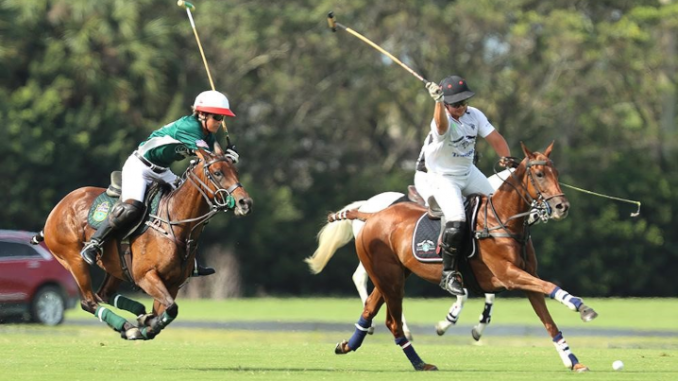 Park Place Holds On to Defeat Scone in CaptiveOne U.S. Open Polo Championship®
Wellington, FL – April 1, 2021 – The final two teams, Tonkawa and Scone, made their debuts in the 2021 CaptiveOne U.S. Open Polo Championship® on Thursday at the International Polo Club Palm Beach as four teams jostled for positions in their brackets. In the opening game of the day, Tonkawa faced a second-half push from Aspen/Dutta Corp but stood tall in the final two chukkers to claim the 11-9 victory. After splitting their first two meetings, Park Place got the best of USPA Gold Cup® champions Scone, holding on for an exciting 9-8 victory.
Setting their sights on reaching a second consecutive final in the Gauntlet of Polo®, Tonkawa began their tournament with a hard-fought victory on perfect 4 for 4 penalty shooting from Sapo Caset and a passing attack that overwhelmed Aspen/Dutta Corp in the first half. Assisting on all seven of their field goals in the game, Tonkawa effectively passed to goal, but Aspen/Dutta Corp produced a run of five goals that changed the momentum of the game that ultimately left them just short of the comeback in the narrow two-goal defeat.
Controlling possession throughout the first half, Tonkawa had their opportunities to build a large lead but converted just three of their 14 shot attempts. However, the constant pressure from Tonkawa kept the ball in the attacking half and produced a 3-0 chukker in favor of the team in green, with two goals coming off the mallet of Caset. After a Penalty 4 conversion from Caset extended the lead to four, Aspen/Dutta Corp ended their drought when Stewart Armstrong came forward in the game for his team's first goal. While continuing to prevent Aspen/Dutta Corp from scoring, Tonkawa struggled to add to their lead after missed chances around goal, leaving the score at 5-2 entering halftime.
A renewed focus to start the second half resulted in three Tonkawa goals in a span of minutes that put them ahead 8-2 and left Aspen/Dutta Corp facing a big hill to climb. Despite their early struggles offensively, Aspen/Dutta Corp came alive for the rest of the fourth chukker, starting with a run from Timmy Dutta. A Penalty 1 goal awarded to Gringo Colombres was quickly followed by another field goal as Aspen/Dutta Corp scored three goals in a span of one minute and 45 seconds to change the game. Another goal each from Colombres and Dutta brought Aspen/Dutta Corp within one, trailing 8-7 entering the fifth chukker. Returning to a possession-based attack, Francisco Elizalde pushed the lead back to four on consecutive goals, but Aspen/Dutta Corp provided one final push to try and send the game to overtime. In a final attempt, Colombres and Armstrong scored to threaten Tonkawa's victory, but time ran out as they were ultimately defeated 11-9.
A tale of two halves, Park Place and Scone battled until the final seconds despite Park Place scoring the first seven goals of the game. Building a 7-0 lead on the reigning USPA Gold Cup® champions, Park Place looked to have the win secured but were held to just two shots in the second half as Scone fought their way back into the game on four penalty conversions from Peke Gonzalez. The potent Scone attack was held to just eight goals, four goals below their season average as their first-half struggles ultimately made the difference in the 9-8 defeat.
Goals proved to be hard to come by in the first chukker as a Penalty 4 conversion from Hilario Ulloa provided the only offense in the opening seven minutes. The momentum swung in Park Place's favor at the start of the second chukker after a run from Andrey Borodin was finished by an impressive shot to goal, extending Park Place's lead to two. Scone was held scoreless through two chukkers, a rarity for the Cambiaso-led offense, allowing Park Place to build a significant seven-goal lead in a dominant third chukker by Ulloa. A goal from Poroto Cambiaso ended the half but left Scone facing a difficult task to come back from a 7-1 deficit.
Beginning to chip away at the lead, Scone prevented Park Place from attempting a shot at goal and found a rhythm offensively, receiving a Penalty 2 goal from Gonzalez and a second field goal from Poroto Cambiaso. Still holding a comfortable four-goal lead, Park Place continued to limit the Scone attack, but their opponents slowly closed the gap behind the young duo of Gonzalez and Poroto Cambiaso. Gonzalez's third penalty conversion brought Scone within two, but an impressive response from Park Place saw a long pass from Juan Britos picked up on the nearside by Matt Coppola and finished for a goal to extend the lead back to three. Sent to the penalty line again, Gonzalez converted, leaving two minutes for Scone to tie the game. Running into Park Place territory, Scone was unable to score just feet from goal as a game-saving backhand from Ulloa secured the 9-8 victory.
Photo ©Alex Pacheco