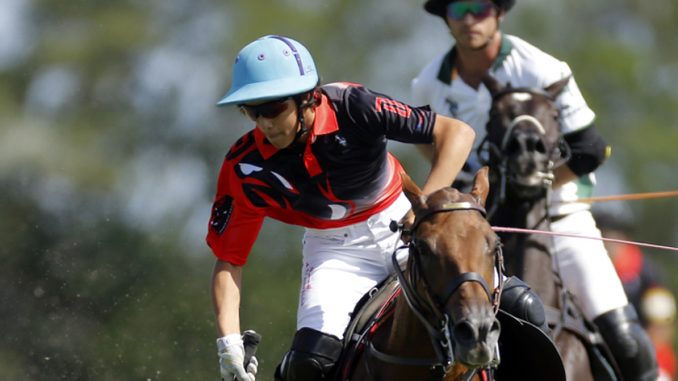 Tonkawa and Santa Clara Win on Day Two of CaptiveOne U.S. Open Polo Championship®
Play resumed in the 2019 CaptiveOne U.S. Open Polo Championship® with the second day seeing Tonkawa defeat Postage Stamp Farm 10-8, while Santa Clara claimed the 13-6 victory over SD Farms at the International Polo Club Palm Beach.
The opening game of the day saw Tonkawa control the flow of play, with Sapo Caset and Agustin Merlos working effectively together to outshoot Postage Stamp Farm 16-8 in the game. A new line-up for Postage Stamp Farm had Joaquin Pittaluga fill in for Mariano Aguerre, while an injury forced Annabelle Gundlach from the game to begin the third chukker. An organized Tonkawa team took advantage, led by five first half goals from Caset to race out to a 6-2 lead. Scoring 6.0 goals per game in the USPA Gold Cup®, Lerin Zubiaurre was limited in the game, with Tonkawa applying high-pressure on Postage Stamp Farm's passes to create interceptions. Late foul trouble for Tonkawa allowed Postage Stamp Farm to fight their way back into the game with Zubiaurre converting two penalties, but the advantage for Tonkawa in open play proved to be the difference. The eight-goal performance from Caset led Tonkawa to the 10-8 victory.
The second match produced an impressive performance from Santa Clara, who produced an efficient attack that finished 80% from the field and 83% from the penalty line in the victory. Along with substitute Benjamin Avendano who played in place of the injured Nico Escobar, all four players for Santa Clara finished with at least two goals. Juan Ruiz Guinazu gave SD Farms the early 2-1 lead, converting both of his shot attempts from the field, but Santa Clara responded with a run of nine unanswered goals to build a large lead. Held off the scoresheet for three consecutive chukkas, SD Farms struggled to keep pace with Santa Clara, with Ignacio Toccalino taking advantage of four SD Farms fouls to score four goals from the penalty line. With a seven-goal lead, Santa Clara cruised over the final two chukkers to maintain their lead and complete a convincing 13-6 victory.