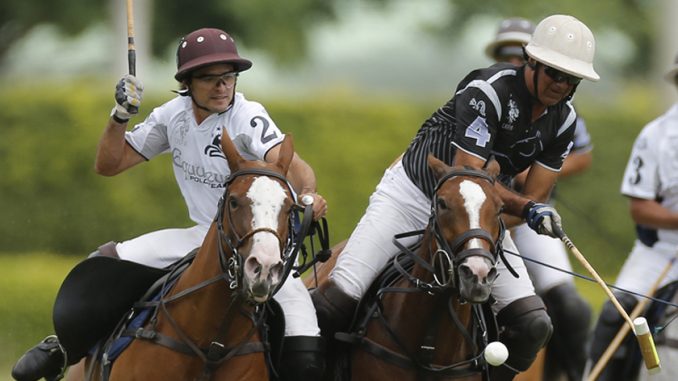 Iconica and Park Place Win on Day Three of CaptiveOne U.S. Open Polo Championship®
The third day of play in the CaptiveOne U.S. Open Polo Championship® produced a strong showing from Iconica in the 8-5 victory over Equuleus, while Park Place defeated Old Hickory Bourbon 13-11 at the International Polo Club Palm Beach.
A defensive battle in the first game displayed Iconica's organized defence with Matias Magrini alongside Sebastian Merlos, who returned for the first time since injuring his hand in the C.V. Whitney Cup. Holding Equuleus to 3 for 15 from the field, Iconica gained the advantage from the field, with a passing attack that saw Peke Gonzalez break free for runs to goal. Equuleus held the early edge, outshooting Iconica 5-0 in the opening chukka, but their inability to convert kept Iconica within one. Magoo and Ignacio Laprida continued to produce offensive chances, but Iconica tied the game by halftime behind three goals from Peke Gonzalez.
Iconica continued utilizing Gonzalez out front in the game, with Magrini and Merlos claiming an assist each to extend Iconica's lead to three. The pace of the game slowed in the fourth chukka after a lengthy injury time-out for Merlos, who was able to stay in the game and help maintain Iconica's lead. With limited scoring in the game, Equuleus was unable to mount a comeback, scoring just five goals, while Peke Gonzalez finished with an impressive seven goals in the victory.
A fast-paced second game featured a closely fought match between Park Place and Old Hickory Bourbon that came down to the final two chukkas, with the lead changing hands multiple times. A high-pressure Old Hickory Bourbon defence that included Sugar Erksine, playing in place of an injured Jason Crowder, frustrated Park Place throughout the first half, creating turnovers to generate offense of their own. Erskine contributed with two early assists to lead Old Hickory Bourbon, but the Park Place duo of Nico Pieres and Juan Britos pushed Park Place into the early 5-4 lead. With just four combined fouls in the first half, end to end action resulted in a 5-5 tie at halftime with neither team able to distance themselves.
Miguel Novillo Astrada captained his team's attack in the second half, with effective defense and accurate passing to set up Erksine and Will Johnston for goals. The score remained tied after the high-scoring 3-3 chukker, with the outcome to be decided in the final 15 minutes. Park Place took control of the game, led by Pieres who found Andrey Borodin downfield, while scoring himself to give Park Place a two-goal lead. Scoring his eighth goal of the game in the final chukker, Pieres proved to be the deciding factor for Park Place in the narrow two-goal victory in their CaptiveOne U.S. Open Polo Championship® debut.