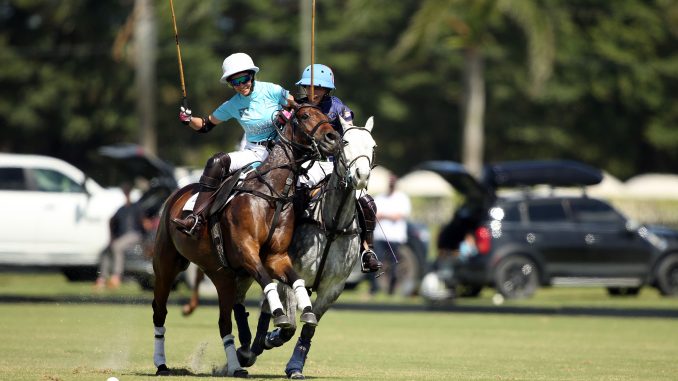 TOP TEAMS DRAW FOR PRIZE MONEY U.S. OPEN WOMEN'S POLO CHAMPIONSHIP® PRESENTED BY EASTERN HAY AND ICON SOURCE BENEFITTING SUSAN G. KOMEN
March 3, 2022
Marking the fourth consecutive year in Florida, the United States Polo Association (USPA) hosted the U.S. Open Women's Polo Championship® draw on Wednesday, March 2, at the International Polo Club Palm Beach (IPC) in Wellington, Florida. Hors d'oeuvres and beverages were served on the 7th Chukker patio. Starting off the evening, USPA COO & In-House Counsel Chris Green emphasized the importance of women to the USPA and the incredible growth of women's polo as exhibited through the quality competitors assembled for this year's 22-goal tournament.
Returning to defend their title in 2022, BTA/The Villages are back as well as two-time (2019 and 2020) champions Hawaii Polo Life and Dundas. Joining the competition for the first time, Blue Water and G-String Polo Ponies are looking to hoist the most prestigious cup in women's polo in the United States on their first attempt. Simultaneously competing in the GAUNTLET OF POLO® on Coca-Cola, G-String Polo Ponies' Gillian Johnston is the only woman competing in the USPA Gold Cup®. The official draw determined the playing order for the U.S. Open Women's Polo Championship® which begins Monday, March 7. Preliminary games will be played at Port Mayaca Polo Club (Okeechobee, Florida) with the final slated for 1:00pm ET on Saturday, March 19, on the U.S. Polo Assn. Field 1 at IPC. Livestreamed and on-demand games will be available on Global Polo TV.
Although falling just short to Hawaii Polo Life in the 2020 final, BTA/The Villages returned for a rematch the following year with a point to prove, securing their first U.S. Open Women's Polo Championship® trophy in 2021 undefeated. Alyson Poor will join BTA/The Villages' lineup in 2022 while former teammate Kylie Sheehan will compete with newcomer Blue Water. Led by proven high-goal competitor Izzy Parsons, Blue Water features three of the 10 USPA Intercollegiate/Interscholastic alumnae represented. Known for her offensive abilities, Sophie Grant recently advanced to the 14-goal Heritage Cup™ semifinals.
Looking to inscribe their name on the trophy for a third time, Hawaii Polo Life will take the field once again with 10-goaler Hazel Jackson and new teammate Cecily Coors. Captaining Dundas,
Nina Clarkin is the only other 10-goaler represented on the roster. A rising young star in her own right, Hope Arellano recently won the inaugural U.S. Junior Open Test Match in January after a successful 2021 Argentine season.
Made possible through the sponsorship of Eastern Hay and Icon Source and the USPA Tournament Prize Money Matching Program, a $40,000 prize money purse will be awarded. $30,000 will be presented to the winning team while the runners-up will receive $10,000.
The list of participating teams by draw are available below:
BTA/The Villages (22) Paige Boone (6), Alyson Poor (4), KC Krueger (6), Tiffany Busch (6)
Blue Water (22) Sophie Grant (5), Kylie Sheehan (5), Izzy Parsons (8), Meghan Shader Jumet (4)
Dundas (22) Jewel Gregoncza (2), Sarah Siegel-Magness (2), Hope Arellano (8), Nina Clarkin (10)
G-String Polo Ponies (22) Heather Souto (4), Danielle Lussi (3), Lia Salvo (9), Gillian Johnston (6)
Hawaii Polo Life (22) Cecily Coors (0), Pamela Flanagan (4), Mia Cambiaso (8), Hazel Jackson (10)
FORMAT
Each team draws two teams to play against. Following bracket play, all teams will have played two games and will be ranked 1-5 based on record. Any ties will be broken with a shootout. The top four teams will advance to the U.S. Open Women's Polo Championship® semifinals. The winners of the semifinals will advance to the U.S. Open Women's Polo Championship® final.