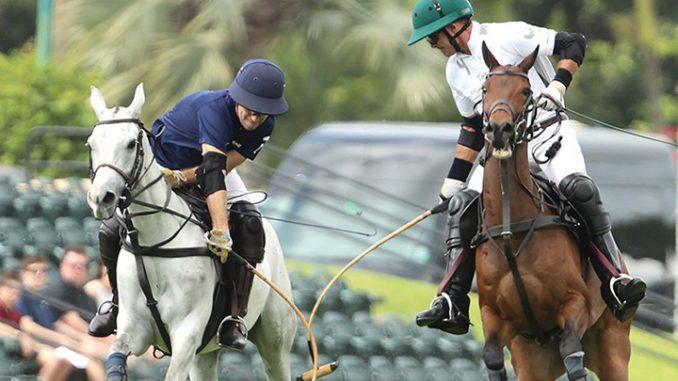 Dutta/Corp Show+ Crush the Competition and La Indiana Seize Overtime Victory in the USPA Gold Cup®
Back in action at International Polo Club Palm Beach (IPC), Sunday's USPA Gold Cup® doubleheader kicked-off on Field 4 between Hickory Bourbon/Airstream and Dutta Corp/Show+. Making their USPA Gold Cup® debut, Dutta Corp/Show+'s Tomas Garcia del Rio and Ignacio "Inaki" Laprida combined for nine goals to claim the 15-8 victory. In the feature game of the Week on U.S. Polo Assn. Field 1, a thrilling high-scoring back-and-forth affair ended with Lucas Criado Jr. scoring the overtime golden goal to lift La Indiana to victory 13-12 over Tamera.
After bowing out of the semifinals in the C.V. Whitney Cup® against Scone, Dutta Corp Show+ began their bid for the USPA Gold Cup® on Field 4 with back-to-back goals off a Penalty 1 drawn by Laprida, followed by Timmy Dutta from the field for a quick 2-0 lead. Working as a cohesive unit, Dutta Corp/Show+ displayed a complete first half takeover, asserting their early dominance with four goals in the second chukker, including three from Dutta Corp/Show+'s leading scorer Garcia del Rio.
Struggling to capitalize on their offensive chances in open play, the first goal on the day for Old Hickory Bourbon/Airstream came on a Penalty 2 conversion from Matias Magrini, as the embattled team took a five-goal deficit into the third chukker. Continuing to apply pressure and capitalize on Old Hickory Bourbon's missed opportunities, 80% penalty shooter Garcia del Rio hit his second conversion on a Penalty 3, while Laprida followed up from the field. Finally gaining some momentum off a Joaquin Panelo penalty conversion, Old Hickory Bourbon strung together a successful run of back-to-back goals from Stevie Orthwein. One final play before time expired in the third saw Joaquin Avendano tap in his first on the day, as Dutta Corp/Show+ took a commanding 9-4 lead at halftime.

Picking up where they left off, Dutta Corp/Show+ continued their all-out offensive attack, scoring three more goals in the fourth, including a wide-open breakaway from Laprida to give his team the 12-4 advantage. Following a Safety for Dutta Corp/Show+, Old Hickory Bourbon/Airstream's Santino Magrini answered with a Penalty 2, followed shortly after with Orthwein's third in open play. Carrying a staggering eight goal deficit into the final chukker, Old Hickory Bourbon/Airstream displayed grit and determination to keep battling for positive possessions and scoring opportunities.
Striking on two Dutta Corp/Show+ broken knock-ins, Joaquin Panelo drove the ball between the posts on back-to-back drives to cut the deficit to six. As regulation wound down, Garcia del Rio tapped in his team leading fifth goal of the day, doubling up Old Hickory Bourbon's field goals, to seal the 15-8 Dutta Corp/Show+ victory in their impressive USPA Gold Cup® debut, as Old Hickory Bourbon/Airstream fell to 0-2 in bracket play.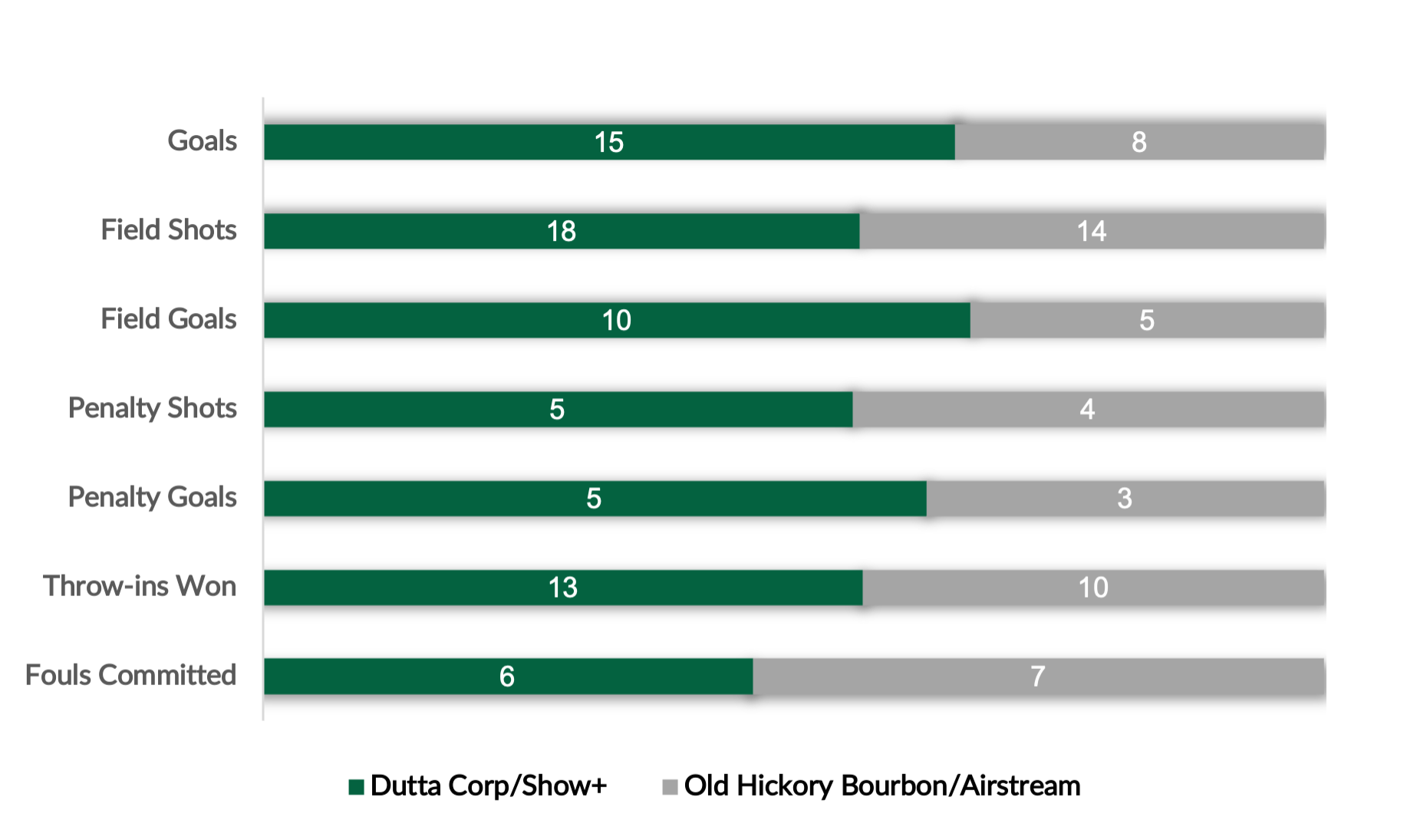 Assembling on U.S. Polo Assn. Field 1 for the feature game, La Indiana was awarded one goal on handicap and quickly built on their advantage with a string of three goals, two coming from Criado Jr. to stake an early four goal lead. Making their GAUNTLET debut, Tamera was faced with establishing their rhythm on the fly, as a previous injury to 8-goaler Alejo Taranco saw Cristian "Magoo" Laprida stepping in as a substitute. Finding their footing in the latter half of the first chukker, Diego Cavanagh accounted for four goals in the first two chukkers of play, including three from the 40-yard line to tie the match 4-all. After a response from Criado Jr. to briefly halt Tamera's run, Alejandro Poma found the posts to respond for Tamera and keep the two teams tied 5-5. Committing six early fouls resulted in Tamera continuing to produce from the penalty line, but La Indiana began to cohesively work the ball down the field with clean play to score three consecutive goals to end the first half with the 8-5 lead.

Utilizing the break to strategize, Tamera came roaring back in the fourth chukker with a three-goal response of their own, as Segundo Saravi added his name on the scoreboard in back-to-back drives down the field to blank La Indiana and restore the tie at 8-all. Keeping in stride with the tight play displayed in the first four chukkers of the match, the two teams traded goals twice in the fifth chukker, as Stewart Armstrong scoring on a marvelous backshot for his first, while Laprida also hit the mark to add his name onto the scoreboard to keep the teams deadlocked 10-all.
Stepping up for Tamera, Cavanagh went down the field on back-to-back drives to post his team leading sixth goal of the day and pushing Tamera to a 12-10 advantage. With each team committing twelve fouls, La Indiana's final penalty attempt sent Criado Jr. back to the line for a crucial conversion to keep La Indiana in the game. With less than twenty seconds remaining on the clock, Criado Jr. managed to find the posts once more, scoring his fourth goal from the field to force the match into overtime.
With both teams matching each other stride-for-stride throughout regulation, overtime would be no different with each side falling just short of the goal in multiple opportunities. Finally, a booming shot from Jeff Hall at mid-field straight to the mallet of an unmanned Criado Jr. allowed him to escort the ball across the line and take the match 13-12.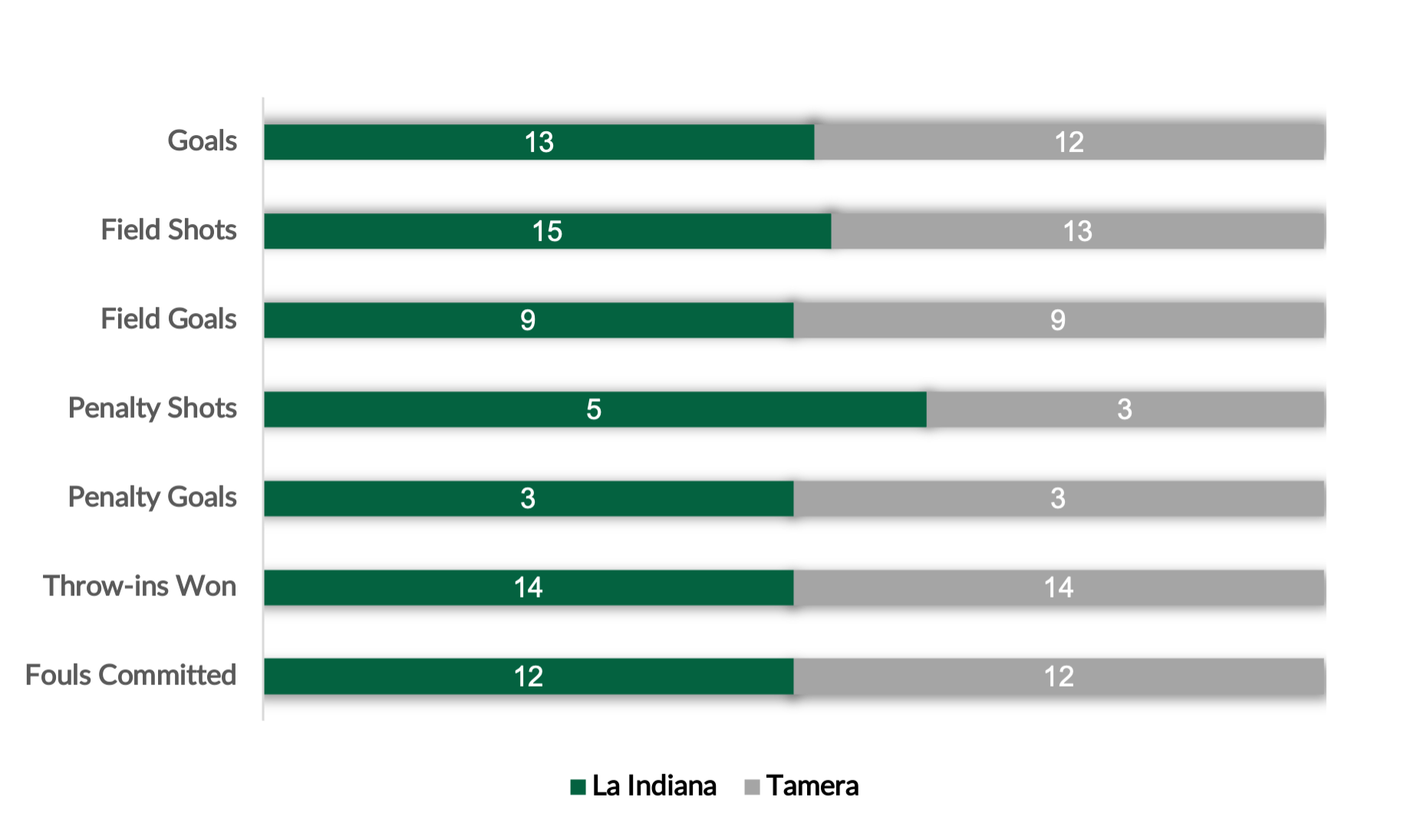 Contributing eight goals including the overtime winner, La Indiana's Lucas "Luckitas" Criado Jr. was awarded Most Valuable Player, while Mariano Aguerre's "Machitos Cheyenne" was named Best Playing Pony.
Play in the USPA Gold Cup® will continue at IPC on Thursday, March 10 at 3:00pm ET, where SD Farms and Dutta Corp/Show+ will battle for top seeding in Bracket III.
Photo Credit ©Alex Pacheco