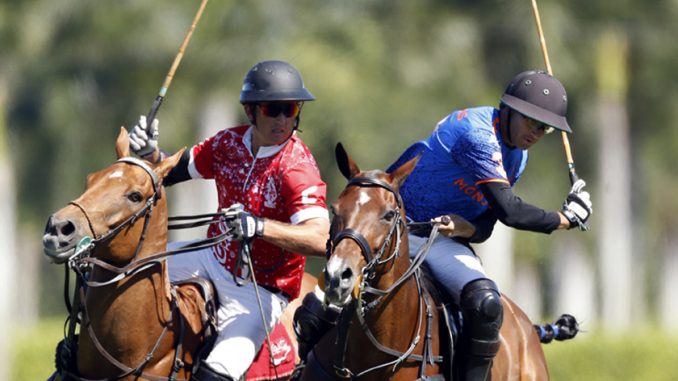 Three Close Games on Day Five of USPA Gold Cup
Three close games highlighted the fifth day of play in the 2019 USPA Gold Cup. Las Monjitas defeated Coca-Cola 11-9 to open play on the day, with overtime needed in the second game as Iconica was victorious over Equuleus 10-9. The day completed with a narrow 10-9 victory for Stable Door Polo over Postage Stamp Farm.
In the opening game of the day, fast-paced action saw few fouls between the two teams with goals being scored at a high rate. Las Monjitas' Hilario Ulloa scored six first half goals to lead his team to the 9-5 advantage, working seamlessly beside Francisco Elizalde. The duo of 8-goalers on Coca-Cola in Julian de Lusarreta and Ignacio Novillo Astrada countered for Coca-Cola with three goals each in the opening half. Both teams displayed strong team efforts with the ball rarely coming to a stop as Coca-Cola fought to reduce the deficit. Gillian Johnston was impactful in the second half with two goals, but Las Monjitas finished with the 13-11 victory behind impressive 13 for 18 shooting from the field.
The second game featured a tale of two halves, with Iconica dominating the opening three chukkas, only to watch their lead slip away. In stark contrast to the first game, foul trouble affected both teams, but haunted Equuleus early in the game, resulting in perfect 5 for 5 penalty shooting from Peke Gonzalez. Using their third different line-up in three games, Ignatius Du Plessis filled in for the injured Sebastian Merlos, manning the back of the game effectively. Equuleus made a push in the second half led by three goals from Ignacio Laprida. Trailing by four, Equuleus scored the final four goals of the game to send the outcome into an overtime chukka, where it was Peke Gonzalez who once again was the offensive factor for Iconica, scoring his game-high seventh goal to lead his team to victory.
The final game of the day featured a close affair, with missed opportunities on both sides of the ball. Despite committing numerous turnovers, all of Stable Door Polo's offense came from the field, thanks to another strong performance from Henry Porter who finished with three goals. The story of the game may have been the missed opportunities from Postage Stamp Farm, shooting just 31% from the field and converting just 4 of their 9 penalty attempts. Postage Stamp Farm held the advantage in possession in chances, but Stable Door Polo were able to edge out their opponent in the final chukka with the game winning goal off the mallet of Victorino Ruiz Jorba.