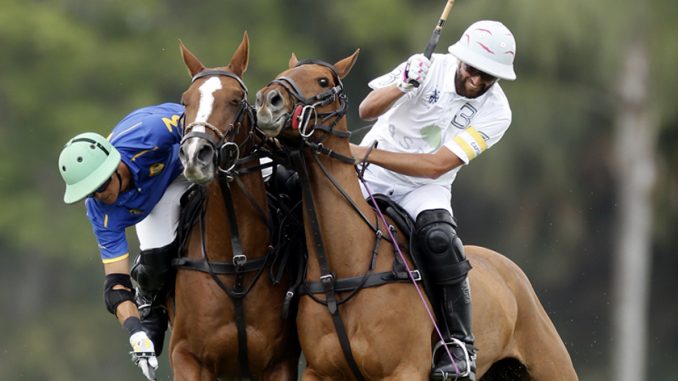 Aspen and Tonkawa Claim Last Quarter-Final Spots in USPA Gold Cup
Two matches remained in group play of the USPA Gold Cup at the International Polo Club Palm Beach, with the final two quarter-finalists yet to be determined. The day began with an exciting overtime match won 12-11 by Tonkawa over La Indiana, while Aspen claimed first seed in Bracket 1, defeating Park Place 9-8.
The opening game of the day saw La Indiana and Tonkawa produce offense in different ways, with La Indiana controlling open play, while Sapo Caset had an impressive day from the penalty line, finishing a perfect 9 for 9. La Indiana looked to have the upper hand throughout the first half, using a dynamic offense that saw contributions from all four players in a passing attack that allowed them to keep possession. While ball control wasn't in Tonkawa's favour, Sapo Caset forced La Indiana to foul trouble throughout the game, including four penalty goals in the opening half to give his team the 6-5 lead. Increased discipline from La Indiana in the fourth and fifth chukkas pushed them into the lead, completing a 5-2 run that gave them a two-goal lead. Needing a comeback, Tonkawa continued to pressure the La Indiana defence, forcing them into further fouls that resulted in Caset converting two Penalty 3's and a Penalty 2, sending the game into overtime. Within a minute, Tonkawa received their ninth penalty attempt of the game and Caset made no mistake, finishing a perfect 100% from the penalty line and claiming one of the remaining two quarter-final spots.
The final game of the day saw a back and forth affair between Aspen and Park Place that saw a late lead slip away from Park Place. Juan Britos was effective for Park Place, contributing on all of his team's goals in the opening half providing a strong performance from the penalty line and the field with three goals and an assist. Aspen struggled to keep pace, converting just 2 of their first 11 shots in the game, but fought their way back into the game early in the second half after goals from Polito Pieres and Stewart Armstrong. Showing their versatility, Park Place used their defence to create quick offense, leading to goals for Andrey Borodin, Nico Pieres and Lucas Diaz Alberdi in the fifth chukka to take an 8-6 lead with just one chukka remaining. The effective attack of the fifth chukka disappeared as Park Place committed a few unforced errors leading to a penalty 1 goal for Tomas Schwencke and a final goal from Polito Pieres to complete a 3-0 sixth chukka and defeat Park Place 9-8.