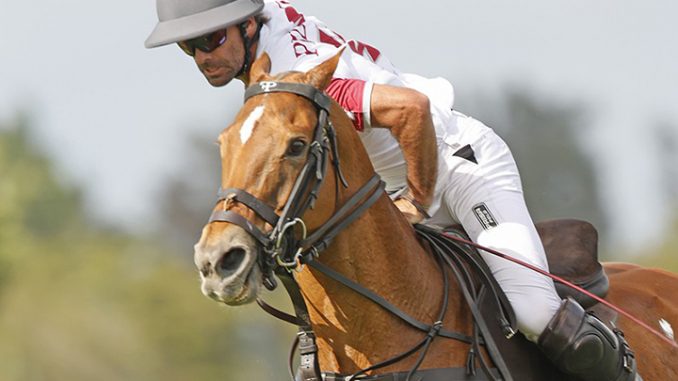 Scone Rebounds and Pilot Commands Strong Victory in USPA Gold Cup®
Continuing bracket play in the USPA Gold Cup® at International Polo Club Palm Beach (IPC) Scone faced La Fe on Isla Carroll West, as a nine-goal performance from Poroto Cambiaso got Scone back on track following their C.V. Whitney Cup® finals loss to capture the 13-7 win. Moving to La Indiana for the second matchup of the doubleheader, Pilot's Mackenzie Weisz stepped-up in a phenomenal offensive showing to score six goals against his former team to defeat Coca-Cola 12-7.
Awarding two goals on handicap to La Fe, Scone began to chip away at their early deficit with Poroto Cambiaso kick-starting his nine-goal day on two back-to-back shots from the field. Following a quick response from Francisco Elizalde, La Fe sent GAUNTLET leading penalty scorer Kristos "Keko" Magrini to tap in his fifteenth Penalty 2 of the season. Unable to yield the dominant ball circulation from team captain Adolfo Cambiaso, La Fe struggled to defend both Cambiaso's, as a driving momentum from Adolfo found clear passes to the goal for both Poroto and Magrini to give Scone the 6-4 advantage at the half.

Emerging with fresh horsepower, Scone kept the pressure on La Fe with 44% shooter Poroto Cambiaso creating space between defenders to add an additional goal for Scone, while Magrini broke through La Fe's Bilbao to send the ball through the posts for his first field goal on the day. Facing a five-goal deficit following a Penalty 4 conversion from Poroto Cambiaso, La Fe's Lucas Diaz Alberdi halted Scone's five goal blitz on a powerful play to the posts. Contributing as an efficient back, Adolfo Cambiaso's shooting accuracy was once again on display as he took advantage of a defensive gap on a booming shot from almost mid-field to score his first goal in two games. Attempting to keep themselves in contention, La Fe's leading scorer Elizalde cruised to his fourth of the match, but the power and tempo of Poroto Cambiaso in the final minutes of regulation was no match for the 20-goal La Fe, as Cambiaso added an additional three goals from the field to deliver the 13-7 victory for Scone.
Reconvening at La Indiana for the final matchup of the doubleheader, 10-goaler and Pilot's top scorer Facundo Pieres burst into action to set the tone and post an early 2-0 lead. After falling to Cessna in overtime of their first USPA Gold Cup® game, Nico Escobar responded for a Coca-Cola team needing to generate a strong first half. Fast and open end-to-end play largely free of penalties allowed Pilot to hone in their offensive abilities, as 69% field shooter Matias Torres Zavaleta ignited an impressive run of six Pilot goals, including four off the mallet of Mackenzie Weisz. Trailing 8-1 at the end of the third chukker, Escobar finally halted Pilot's offensive takeover on a deep neckshot to score Coca-Cola's second goal of the game, ending the half carrying an 8-2 deficit.

Regrouping in the break Coca-Cola displayed their team strengths to begin the second half on consecutive goals from Julian de Lusarreta. Scoring his fifth in open play, Mackenzie Weisz continued to shine for Pilot, while Nico Pieres hit his first from the field since his ten-goal debut against Cessna to cut Pilot's lead to four. With back-and-forth play continuing between the two teams, Zavaleta and Escobar traded goals once more, but Pilot's offensive blitz was not finished yet, as Facundo Pieres finished with his fourth goal, followed by a brilliant cut shot from Weisz to cap off his six-goal day. In a match entirely determined in the field, a well-guarded Gillian Johnston broke free to add one more goal for Coca-Cola, to knock-in her sixth goal of the GAUNTLET. Battling till the final horn, both teams produced more offensive chances, but a final block from Facundo Pieres ran out the clock to seal the dominant 12-7 victory for Pilot.
Photo Credit ©Alex Pacheco