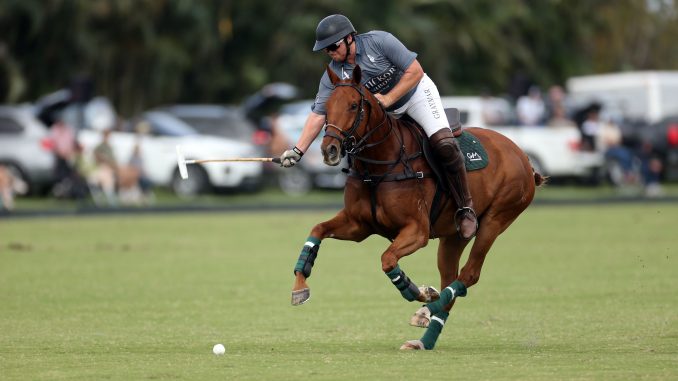 GAUNTLET CONTENDERS PARK PLACE SET THE PACE AND COMPETITION INTENSIFIES AS 13 TEAMS DRAW FOR USPA GOLD CUP®
March 1, 2022
Moving immediately into the second leg of the GAUNTLET OF POLO®, the United States Polo Association (USPA) hosted the USPA Gold Cup® draw party on Thursday, February 24, at the International Polo Club Palm Beach (IPC) in Wellington, Florida. Bringing together representatives from each of the 13 teams, Thursday's lively draw featured an acoustic guitarist, as well as paella and sangria, adding a Spanish flair to the evening festivities on the IPC Pavilion Patio. The official USPA Gold Cup® draw was conducted by Haley Bryan, IPC Polo Coordinator, and determined the playing order for the second tournament of the GAUNTLET OF POLO®, which begins Tuesday, March 1 at IPC. All games will be livestreamed exclusively on Global Polo TV.
Ending Scone's undefeated run and claiming the C.V. Whitney Cup® for the second consecutive year, Park Place is the only team still eligible to be crowned the GAUNTLET champion. 2022 C.V. Whitney Cup® finalists and USPA Gold Cup® defending champions Scone have added offensive powerhouse Keko Magrini to their lineup in 2022 after making a strong statement with two trophies in their 2021 debut. Made possible by the acceptance of individual team entries, four additional teams will join the competition and increase the difficulty of the USPA Gold Cup® field – La Elina, Tamera, CK Shack and Old Hickory Bourbon/Airstream. Captaining La Elina, Sapo Caset will be one of five 10-goalers battling for the prestigious trophy. Winning the Ylvisaker Cup in the 18-goal season, CK Shack will step up to the 22-goal level with a completely new lineup. Also, Coca-Cola will welcome back 9-goaler Nico Pieres who recently returned to the field after sustaining a serious injury in October 2021.
The winning team of the USPA Gold Cup® will be awarded $50,000 in prize money. In keeping with the spirit of philanthropy, U.S. Polo Assn. will provide a $2,500 donation to the winner and runner-up teams of the remaining finals to be donated to a polo charity of their choice.
The list of participating teams in their newly announced tournament brackets are available below:
Bracket I
Cessna (21) Will Johnston (2), Camp Campbell (2), Miguel Novillo Astrada (9), Gringo Colombres (8)
Coca-Cola (22) Gillian Johnston (1), Nico Escobar (5), Nico Pieres (9), Julian de Lusarreta (7)
Pilot (22) Curtis Pilot (0), Mackenzie Weisz (5), Facundo Pieres (10), Matias Torres Zavaleta (7)
Bracket II
CK Shack (22) Henry Porter (4), Martin Valent (4), Santiago Toccalino (8), Kris Kampsen (6)
La Fe (20) Louis Devaleix (0), Robi Bilbao (5), Francisco Elizalde (9), Lucas Diaz Alberdi (6)
Scone (22) David Paradice (0), Keko Magrini (3), Poroto Cambiaso (9), Adolfo Cambiaso (10)
Bracket III
Old Hickory Bourbon/Airstream – Matias Magrini (7), Santino Magrini (5), Stevie Orthwein (4), Joaquin Panelo (6)
SD Farms (22) Sayyu Dantata (2), Lucas Escobar (4), Pelon Stirling (10), Peco Polledo (6)
Dutta Corp/Show+ (22) Timmy Dutta (4), Tomas Garcia del Rio (8), Iñaki Laprida (7), Joaquin Avendaño (3)
Bracket IV
La Elina (22) Leo Mandelbaum (2), Nachi Viana (4), Sapo Caset (10), Jared Zenni (6)
Tamera (22) Alejandro Poma (1), Alejo Taranco (8), Diego Cavanagh (9), Segundo Saravi (4)
Bracket V
La Indiana (21) Stewart Armstrong (3), Jeff Hall (6), Lucas 'Luckitas' Criado Jr. (5), Mariano Aguerre (7)
Park Place (23) Josh Hyde (1), Juan Britos (9), Hilario Ulloa (10), Cody Ellis (3)
FORMAT
Brackets I, II and III will play within their bracket while brackets IV and V will play cross bracket. After the first round, all teams will be ranked 1-13 based on win-loss, then net goals and lastly gross goals. The top three ranked teams will go straight to the quarterfinals while teams ranked 4-13 will compete in playoffs for the remaining quarterfinalist spots.
The top three teams will draw from the five playoff winners and the quarterfinal winners will draw for semifinal pairings.
The USPA Gold Cup® will be contested March 1-27, leading up to the highly-anticipated conclusion of the GAUNTLET, the U.S. Open Polo Championship® March 29-April 24. All Sunday featured games will be held on the prestigious U.S. Polo Assn. Field 1.
The USPA Gold Cup® will be livestreamed on Global Polo TV's (GPTV) OTT platform, accessible on GlobalPolo.com and on major apps including iOS, Android, Roku and Amazon FireTV. Also, marking a historic partnership between Global Polo Entertainment and ESPN, all three GAUNTLET OF POLO® finals will be televised live on ESPN3, ESPN LATAM and Star+ in Latin America. Increasing the exposure of the sport through top tournaments, the deal will bring millions of new audiences, sports fans and consumers in contact with polo. Also new in 2022, the Global Polo Pass annual subscription has replaced the previous pass options and will include access to all livestreamed USPA Official Events, select international events and much more. All USPA members will receive the Global Polo Pass free with a paid 2022 membership. Special offers are available at www.globalpolo.com.