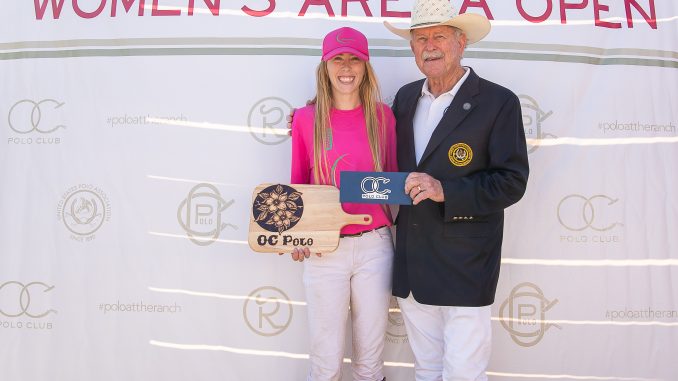 OC POLO BOASTS BACK-TO-BACK WINS
On Sunday, October 22, Orange County Polo Club (OC Polo) in Silverado, California, hosted the USPA Women's Arena Open final. In the ultimate contest, defending champions OC Polo (Marissa Wells*, Mila Slutzky, Isabelle "Izzy" Brockett) vied for the title against Luna Polo (Kasia Lindgren, Olivia Reynolds, Jennifer Alexy). In an impressive feat, OC Polo delivered a decisive 19-9 win, with 11 goals coming off the mallet of Wells—the exact number of goals the 9-goaler scored in last year's final.
In the 2022 competition, OC Polo (Cindy Halle, Mila Slutzky, Marissa Wells) went head-to-head against the formidable Rancho Arroyo/Luna Polo and won 16-11. Wells, who is a Team USPA alumna and one of the highest-rated American women's arena players, returned to defend OC Polo's title alongside former teammate Slutzky. "We had a lot of pressure on our shoulders being the defending champions," said Wells. "We had a target on our back, and everyone wanted to beat us, so we're so happy that we won. It's such a relief that we got the job done!" Brockett, who made her first USPA Women's Arena Open appearance alongside the veterans, was thrilled to take part in the experience.
The 2023 competition was comprised of four teams, including Bad Ass Polo (Posey Obrecht, Jenny Schwartz, Victoria Picha), Christian Brothers (Danielle Travis, Elise Pardue, Kylie Matthews), Luna Polo and OC Polo. The rosters exhibited a breadth of talent and deep roots throughout all levels of polo and included National Youth Tournament Series Championship (NYTS) and Intercollegiate/Interscholastic (I/I) alumnae from across the country, including the inaugural recipient of the I/I Young Alumni Award, Jenny Schwartz.
After playing together in last year's final, Wells and Slutzky formulated a plan to return in 2023. "Last year, Mila and I competed in this tournament and Mila got raised after playing super well, so we had to find another person to reach the handicap limit," explained Wells. The two set out to find the best options from their respective coasts before landing on Brockett. "We found Izzy, who is on our Maryland Interscholastic team, and she joined us this year." Wells, who spent her summer playing professionally in Northern Washington, returned to Maryland to practice with her new teammate. "I went home for two weeks to prepare for this tournament and practice a little bit in the arena, get to play with Izzy, work on our team chemistry and our teamwork, and then we just came out together."
Prior to the start of the tournament, all three OC Polo players were practicing diligently. Slutzky traveled East to Wells and Brockett's home club, Marlan Farm Polo Club in Freeland, Maryland, to perfect the team dynamic. "We flew Mila out to play with us one weekend in Maryland," told Wells. "Our team chemistry, me playing with Mila last year and then me playing with Izzy all the time in Maryland, it's really strong."
While in Maryland, the trio got to know each other better and practiced their arena strategy. "We worked on the more nitty gritty, technical things and it really made all the difference," explained Slutzky. Slutzky and Brockett had already joined forces during the summer playing together in a Polo Training Foundation clinic hosted by Virginia Polo Inc. (Charlottesville, Virginia). The two were able to learn even more from veteran teammate Wells, who provided Slutzky and Brockett with coaching both in and out of the arena. Wells emphasized how to take advantage of the boards in an arena setting and stressed the importance of fitness. "A big part of polo, I think I realized (and Marissa really inspired me), was getting fit with yourself and going to the gym and eating healthy and practicing," said Slutzky. "So that's probably the biggest thing I learned from her — you're an athlete, treat your body like you are an athlete."
In Sunday's final, the trio was in top form as they quickly established the lead for OC Polo, scoring five goals in the first chukker. At the start of the second, Wells converted a Penalty 4 before Luna Polo answered with the team's first goal, scored by Reynolds. Wells was quick to respond with another goal for OC Polo, followed by Luna Polo's Alexy. The two teams went back and forth from the penalty line before the end of the first half concluded, with OC Polo maintaining a substantial lead 10-3.
Despite dominating the first half, OC Polo stuck to their strategy. "Mark our men and win the lineup—that was our main thing," said Wells. "I told the girls that we had to be on top of Jenny [Alexy] and Olivia [Reynolds] from the get-go and win every lineup to get it going our way." Slutzky was also focused on her marking, stating "For me, it was really getting a man off Marissa so she can do her thing, and I think that contributed quite a bit." Of her personal strategy, Slutzky demonstrated her new approach to playing the game. "It was really about just getting there and not chickening out of certain plays that I usually would and really putting myself out there, even if I get a foul here and there," she said. "The fact that I put myself in the play and tried my hardest to get there, I think that's what I really contributed."
Luna Polo picked up the pace in the third chukker and was able to increase their goal count to seven by the end of the period. OC Polo also maintained their momentum and scored another three of their own: two from Slutzky and one from Wells. OC Polo pulled further away in the fourth, scoring another five goals: all three players adding their names to the board with two goals a-piece from Wells and Slutzky, and a two-point goal from Brockett. Luna Polo's Alexy scored the game's final goal in the last minute, but it was not enough to overtake the reigning champions. For the second year in a row, OC Polo emerged the winner, defeating Luna Polo 19-9.
Wells was named Most Valuable Player after captaining her teammates to victory. "Coming in this year, we had a younger team average, so I was a little nervous about that. But we came out on top, and the girls played super tough."
"She is an incredible horse woman and can ride anything you give her," Brockett said of Wells. Slutzky shared a similar sentiment, stating "She is someone who I think everyone out on this field aspires to be and she really is a great mentor for me and Izzy. She has taught us to be strong and pushed us to be our best this weekend."
As for what comes next for Wells, the nine-goaler is determined to reach her next handicap milestone. "It is my absolute dream to be 10 goals. I want to be the best there is in the women's arena polo."
The Sportsmanship Award was presented to Luna Polo's Lindgren for demonstrating excellent horsemanship and upholding the honorable traditions of polo through her personal conduct and fair play.
Alexy's Taxi received Best Playing Pony honors. The gelding came from Argentina to OC Polo Club, where he landed on Alexy's string. "This is not his first Best Playing Pony: he's won everything from the arena to the grass." Unsure of the Taxi's exact age, Alexy speculates the gelding is in his early twenties and believes the Open to be his last tournament with her. "I think you're going to see him in some I/I, so I don't think that'll be his last Best Playing Pony. I think his future is to come back to OC Polo and teach these kids how to shred."
The OC Polo team spent the evening celebrating their win with friends and family and thanked their supporters following the final. "I would like to shout out George Dill — he supplied all three of us amazing ponies and really was the reason that we were able to get out there as a team and I really appreciate that," Brockett said.
Slutzky was pleased with her second USPA Women's Arena Open appearance and happy to have taken on a larger role in the team's success. "Last year was my first year, so it was a lot," she said. "I think my head was on a swivel. This year, the win made a big difference because I feel like personally, I contributed a bit more to the game."
Of her teammates' performance, Slutzky had the following to say: "I love these women next to me. They empower me so much and it's just so awesome to play with people who really push you to be your best."