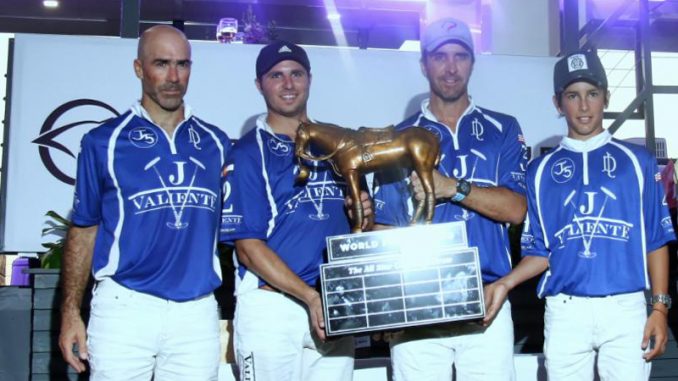 Valiente Makes History With Overtime Thriller, Captures World Polo League's First Tournament; Pablo MacDonough Most Valuable Player
On a historic day of firsts at Grand Champions Polo Club, Valiente came up big.
By Sharon Robb
Valiente (Agustin Nero, 6, Santi Torres, 6, Pablo MacDonough, 10, Poroto Cambiaso, 3) made history with a thrilling 10-9 overtime victory over Colorado (Rob Jornayvaz, 2, Juan Martin Zubia, 7, Rodrigo Andrade, 9, Jero del Carril, 7) Sunday in the championship final of the inaugural World Polo League All Star Challenge Draw Tournament.
With 6:34 left in overtime, Argentine 10-goaler Pablo MacDonough converted a 60-yard penalty shot to clinch the win in front of a record crowd and worldwide livestream audience.
Pablo MacDonough of Valiente and Rob Jornayvaz of Colorado pursue the ball.
MacDonough finished with eight goals all on penalty conversions and was named Most Valuable Player for the final.
"I have never had eight penalty goals in one game, that is the first time in my life I scored so many penalties in one game," MacDonough said. "It was good, especially the last one. I just wanted to hit the ball well and if you hit the ball well you have a chance to score. I just concentrated on putting the ball up in the air and that was it. Then you need a little bit of luck and it was on my side.
Valiente's Agustin Nero and Pablo MacDonough battle for the ball with Juan Martin Zubia of Colorado.
"This couldn't be any better, to win the first World Polo League tournament," MacDonough said. "I am very happy to be part of this league. This is something good for polo here in America. I am glad to be here this season and hopefully this league is here to stay."
Poroto Cambiaso of Valiente in the thick of the action.
Poroto Cambiaso, 13, the son of polo great Adolfo Cambiaso and youngest player in the eight-team tournament, was selected Most Valuable Player for the tournament and presented a Catena Watch by Bill Kraft, Catena USA CEO and President.
It was Cambiaso's first 26-goal tournament win in his U.S. 26-goal debut. Cambiaso scored two goals in the final and matched up well against players twice his age.
Agustin Nero and Santi Torres of Valiente double team Juan Martin Zubia of Colorado.
"This is the first time in my life I play with Poroto," MacDonough said. "It's unbelievable how he understands the game. He is the future of polo."
Valiente finished the tournament unbeaten at 3-0 and Colorado finished 3-1. Both teams are owned by Wellington-based J5 Equestrian.
Jero del Carril of Colorado tries to hook Agustin Nero of Valiente.
"Valiente is an amazing organization," MacDonough said. "I am glad to be part of one team and I am glad to be here."
With his attacking, aggressive style of play, Torres played an integral role in the game.
Poroto Cambiaso of Valiente reaches to steal the ball from Jero del Carril of Colorado.
"That whole game was tough, every second of it," said the 25-year-old Torres. "That team was unbelievable. I was lucky Pablo made that shot. I screwed up on the play that made us go into overtime, luckily he made that."
Santi Torres of Valiente works the ball out of the air with Juan Martin Zubia of Colorado defending.
After Torres fouled Andrade on a potential goal run, Jero del Carril converted a 30-yard penalty with 12 seconds left to send the game into overtime. Del Carril finished with four goals to lead Colorado's scoring. Jornayvaz and Zubia each had two goals and Andrade added one.
"The game was amazing," said Torres, who also won the 20-goal Sterling Cup last weekend with Colorado teammates Nick Johnson, Diego Cavanagh and Jornayvaz. "That team was unbelievable. We played tough and tried to keep our man, but they are an awesome team. The whole game was tough.
Poroto Cambiaso receives his Catena watch from Bill Kraft, Catena Watches CEO and President.
"It feels great that we won and I am very grateful," Torres said. "It's amazing to win this tournament and be a part of history."
The game was close from start-to-finish with never more than a two-goal difference. Valiente led 2-1, 3-2 and 5-4 in the first half.
Colorado took advantage of Valiente penalties in the fourth chukker and back-to-back goals from Del Carril and Zubia to give Colorado a 6-5 lead with 3:20 left and finished with a 7-6 lead after four chukkers.
AHPA Best Playing Pony of the tournament Mini Watt played by Santi Torres.
The fifth chukker was more defensive with Cambiaso scoring the only goal for a 7-7 tie going into the sixth. MacDonough continued his magic at the line converting 60- and 40-yard penalties to give Valiente a 9-7 lead with 4:15 left.
Colorado came roaring back with Jornyavaz' goal at the 1:10 mark to trail 9-8 and del Carril's 30-yard penalty shot to send the game into overtime.
World Polo League Best Playing Pony Subaru played by Pablo MacDonough
Valiente advanced into the final with a come-from-behind 11-9 victory over Patagones. Colorado clinched with a 10-9 win over Flexjet.
World Polo League Best Playing Pony was awarded to Subaru played by MacDonough in the sixth chukker. AHPA Best Playing Pony was Amapola played by Jornayvaz.
AHPA Best Playing Pony of the tournament was Mini Watt played by Torres. Mini Watt was also the APHA Best Playing Pony for the championship final in the 2017 $100,000 World Cup won by Torres' team Palm Beach Illustrated.
AHPA Best Playing Pony Amapola played by Rob Jornayvaz.
The American Polo Horse Association was created in 2006 by the legendary Polo Hall of Famer Sunny Hale to recognize polo ponies in America and encourages events that showcase them and hard-working dedication of grooms.
Grand Champions awards table with one-of-a-kind All Star Challenge Draw Tournament player awards.
Earlier in the day in the Handicap Final, Scone (Alan Meeker/Aiden Meeker, 0, Guillermo Terrera, 8, Alejandro Taranco, 8, Juan Martin Nero, 10) defeated Audi (Marc Ganzi, 2, Nic Roldan, 8, Pelon Stirling, 10, Kris Kampsen, 6), 11-9. Ten-goaler Juan Martin Nero was Most Valuable Player. Terrera and Taranco each had four goals. Aiden Meeker added three goals. Aiden and his father Alan filled in for team sponsor David Paradice. Ganzi and Stirling each had three goals for Audi.
Ten-goalers Pelon Stirling of Audi and Juan Martin Nero of Scone watch the ball.
The WPL's inaugural tournament was well-received by players, fans, sponsors and media, both live streamed in Spanish by ESPN Deportes and English by ChukkerTV/Horseplay with Gus Whitelaw calling the action. ESPN West Palm radio personality Josh Cohen presented the awards for the final.
Handicap finalists Audi and Scone along with WPL game officials and awards presenter Maria Elena Garrahan.
"What I am most excited about is the overall progress that the highest level of polo in the northern hemisphere has made," WPL Commissioner Dale Smicklas said. "I think anybody that's come to the games, watched the games and experienced the energy has witnessed the feeling and positive momentum we have around this style of play and this level of play."
It was the second time in eight days Colorado and Valiente, both J5 Equestrian teams, met in a final. Colorado (Rob Jornayvaz, 2, Santi Torres, 6, Diego Cavanagh, 9, Nick Johnson, 3) won the 20-goal Sterling Cup with a 9-8 upset of defending champion Valiente (Kian Hall, 3, Robertito Zedda, 4, Poroto Cambiaso, 3, Adolfo Cambiaso, 10).
Eight teams competed in bracket play to determine the two finalists. Scone, Grand Champions, Colorado and Flexjet are in Bracket A and Audi, Valiente, Cria Yatay and Patagones are in Bracket B.
Fans enjoying a bird's eye view from the two-story World Polo League VIP area.
Co-founded by Grand Champions owners Melissa and Marc Ganzi and Valiente Polo Farm owner Bob Jornayvaz, the World Polo League is the only 26-goal polo in the world outside of Argentina.
The exciting new league, that will offer major prize money starting in the semifinals, is preserving the highest level of polo and its rich, hallowed tradition in the U.S.
VIPs were treated to appetizers from Ken-Rose Catering and Event Planning.
The WPL has its own set of simpler fan-friendly rules, including no yellow cards, to improve the flow and action of the game.
The WPL, with 14 tournament-quality fields to play on, also includes the Feb. 20-March 3 Founders Cup, March 6-24 Palm Beach Open and March 27-April 14 Triple Crown of Polo.
The WPL game finals will be held Sundays on Field Two at Grand Champions at 4 p.m. and semifinal games at Valiente Polo Farm, Fields One and Two. Several games will also be held throughout the week at various times. Admission and parking are free along with food and refreshments at the featured games.
Local favorite Tom Blake sings beautiful rendition of the National Anthem before the final.
The World Polo League is open to other teams that wish to compete in one or more of the tournaments. Entries are still open and everyone is welcome to play. Games are offered on the flat (Open) and on Handicap.
The World Polo League has attracted a large international field of players from all corners of the world including Australia, Argentina, Brazil, Canada, Costa Rica, Uruguay and U.S.
Grand Champions and Valiente are also launching the U.S. National Mixed Doubles Championship, featuring two men and two women with combined handicaps, in March.
In addition to the World Polo League, season highlights for 2019 at Grand Champions are the Sterling Cup, March 1-31 $50,000 National 12-Goal Tournament, March 1-16 John T. Oxley Memorial and March 3-24 $100,000 World Cup Tournament, a unique 0-40-goal, winner-take-all single-elimination tournament.
A record crowd enjoyed the exciting WPL overtime final.
Photos by Gabrielle Stodd
Grand Champions and Santa Rita Polo Farm is the largest and most unique polo facility in Wellington with 120 stalls in five self-contained barns, exercise track, five climate-controlled tack rooms, vet room, staff quarters, guest house and three polo fields with state-of-the-art underground irrigation including one field for stick-and-ball with plans to build more polo fields in the future.
2019 WORLD POLO LEAGUE SCHEDULE
FEBRUARY
Feb. 20-March 3, Founders Cup
Tuesday, 2/19:
4 p.m. Scone vs. Flexjet
Wednesday, 2/20:
11 a.m. Colorado vs. Black Watch
4 p.m. Valiente vs. Alegria
Thursday, 2/21:
10 a.m. Scone vs. Audi
4 p.m. Flexjet vs. Grand Champions
Sunday, 2/24:
4 p.m. Audi vs. Grand Champions
Tuesday, 2/26:
4 p.m. Grand Champions vs. Scone
Thursday, 2/28:
TBD: Flexjet vs. Audi
Sunday, March 3:
4 p.m. Founders Cup Final at Grand Champions Polo Club Field 2
MARCH
March 6-24, Palm Beach Open
March 27-April 14, Triple Crown of Polo
Games at Grand Champions Polo Club, Valiente Polo Farm and other local fields.