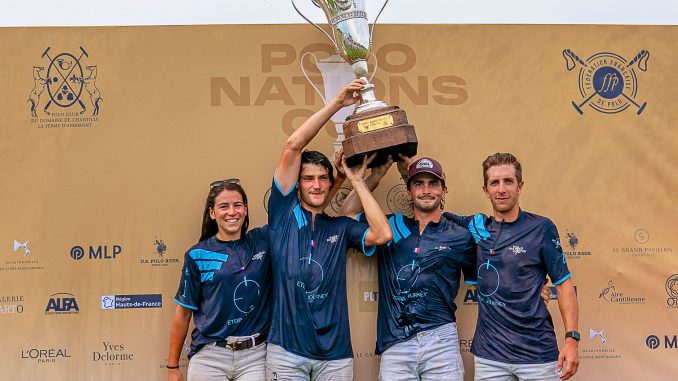 The first Polo Nations Cup, launched by the Fédération française de polo and the Polo Club de Chantilly, was a real success: eight teams took part, ten days of games, each as exciting as the next, and a magnificent final won by PACA France, a wonderful team made up of four young players all from French training.
This first final opposed France against South Korea, a young polo federation eager to develop the sport in its country and position itself on the international polo map. A first success with their qualification for this final in Chantilly. But Korea had to contend with an ambitious young French team, who took control of the game right from the start with a goal from Dorian Bulteau. Although Pandy Irstorza equalized with a corner shot, Louis Jarrige gave France the lead in the first half. This dominance was confirmed in the second chukker (3-1), but in the following period, again thanks to Pandy Irstorza, the two teams were tied again… at least for a few moments. It was in the fourth chukker that the team in blue broke the deadlock, thanks mainly to collective action (everyone scored today), as explained by MVP (best player of the final) Julien Reynes: "It really is above all a team victory, as this was a team tournament, we played all our games as a foursome and we won all our victories as a foursome. The start of the game was closed, which is what Tito was looking for, keeping the ball for fear we'd get it back, and in the fourth chukker we opened up the game by hitting our first balls, and that's when we made the difference. Last year, we won a tournament of the same level with this team, and this shows that we're on the right track. We're delighted to have won this first edition, as the Polo Nations Cup is destined to become a benchmark tournament on the international circuit".
For David Ko, the Korean captain (best amateur player), qualifying for the final was a victory in itself: "It was a great feeling to be in the final, it was quite unexpected, but we were here thanks in particular to our two professional players, Santiago Irastorza and Tito Guiñazu. Being MVP is one thing, but above all it's a great start for Korean polo. This kind of tournament teaches us to play better, and we'll be back next year for the Polo Nations Cup and before that for other major tournaments in France, such as the Open de France here in September. Polo is still in its infancy in Korea, but I hope we'll be able to bring more players to France next year."
This first and "young" Nations' Cup is destined to become a major event. Its concept has already won over a number of new nations, who have signified their interest in taking part next year, the Olympic year. As is often the case on these days at the Polo Club de Chantilly, this day of the final was a beautiful one… but there are many more to come, starting with the next tournament of the same level which begins this week, the Charity Cup, and above all the Open de France next September, where at least twenty teams have been announced to take part. It's going to be great sport! High level sport!
Statistics
PACA France: Elena Venot (1, 1 goal), Dorian Bulteau (3, 2 goals, yellow card at 3rd chukker), Louis Jarrige (4, 4 goals including 2 penalties) and Julien Reynes (4, 2 goals and MVP)
South Korea: David Ko (0, amateur MVP), Jerry Kwak/Bin Kim (0), Tito Guiñazu (7.1 goals, yellow card at 5th chukker) and Santiago Irastorza (5, 4 goals including 1 penalty and 1 corner, yellow card at 3rd chukker)
Best horse of the final, Oración, born in Argentina, ridden by Louis Jarrige and owned by Jean-Claude Le Grand.
Progression PACA France: 2/1 – 3/1 – 4/3 – 7-3 and 9/5