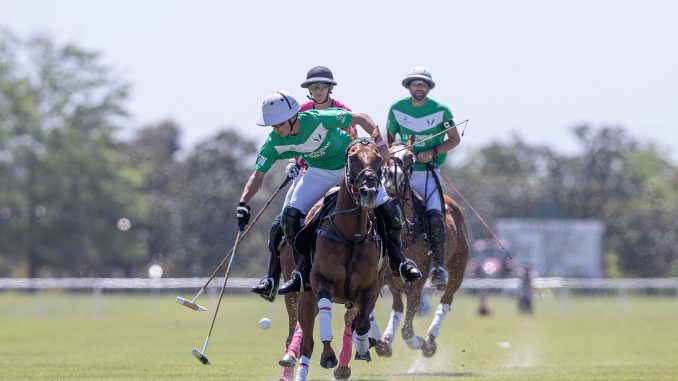 La Dolfina Saudi Polo Team and La Natividad Set-Up Match for Spot in Hurlingham Open Final
The final matches of the second round in the Hurlingham Open concluded at Pilar with La Natividad defeating Alegria Standard Wealth 20-11 and La Dolfina Saudi Polo Team capturing the 15-9 victory against La Ensenada Brubank to set the scene for a third round clash to determine a spot in the final.
In one of their best showings of the season, La Natividad displayed an exceptional passing attack to shoot 59% and assist on 11 of their 17 field goals. The trio of Polito Pieres, Camilo Castagnola and Bartolome Castagnola provided at least five goals and two assists each, leaving Alegria Standard Wealth with a difficult task in slowing all three players. Dominating the throw-in line, La Natividad consistently won possession to overwhelm the Alegria Standard Wealth defense and claim the decisive 20-11 victory. 

The first two chukkas provided a different story of the match as Alegria Standard Wealth stormed out of the gate to take the early lead. Receiving one goal each from Agustin Merlos, Pedro Zacharias and Tomas Garcia del Rio, Alegria Standard Wealth took the slim one-goal lead in the fast-paced opening chukka. Continuing to play at a quick pace, Mannix assisted on two field goals in the second chukka to help extend Alegria Standard Wealth's lead to three against a stunned La Natividad team. However, La Natividad quickly reorganized and used the third chukka to change the game. Scoring six goals, La Natividad continued to drive to goal, receiving goals from all four players with Camilo Castagnola contributing two goals and two assists. Scoring all three of La Natividad's goals in the fourth chukka, Camilo Castagnola was crucial in La Natividad taking control of the game, holding a 12-9 lead at halftime. 
Finding their stride, La Natividad removed any doubt of the outcome at the beginning of the second half, scoring six unanswered goals, three off the mallet of Polito Pieres to turn a three-goal advantage to nine. Unable to hold significant possession in the attacking half, Alegria Standard Wealth finally ended their scoring drought in the final seconds of the sixth chukka on a field goal from Merlos, but it was not enough to keep pace with La Natividad. Completing their impressive second half, Bartolome Castagnola added two goals in the final chukka to secure the 20-11 victory and keep La Natividad undefeated.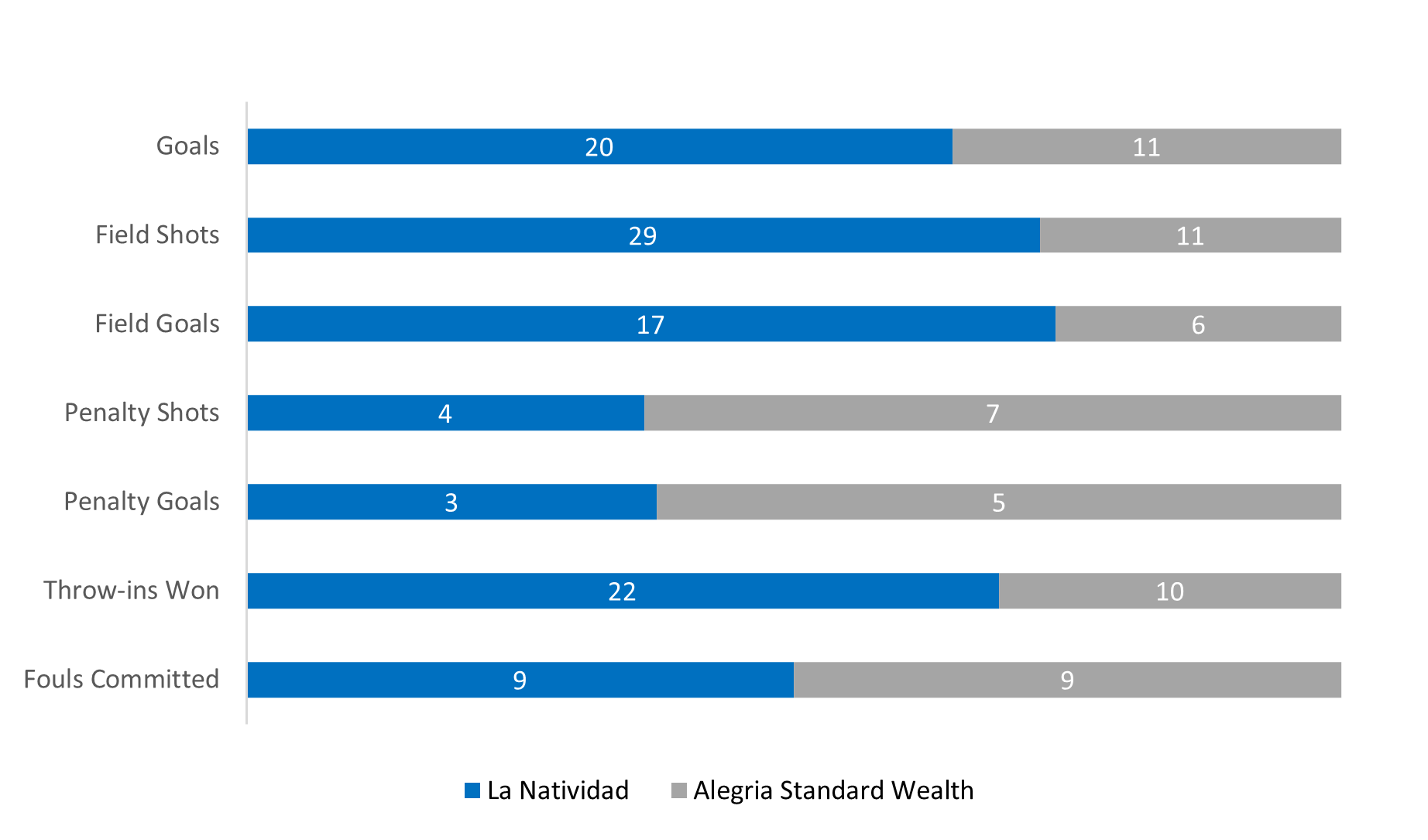 Cementing their status at the top of Zone B, La Dolfina Saudi Polo Team captured the decisive victory over La Ensenada Brubank, led by the seven-goal performance from Adolfo Cambiaso. Producing a dominant first half that resulted in a nine-goal advantage, La Dolfina Saudi Polo Team excelled from both the field and the penalty line, where they scored five first half goals. Providing a determined effort in the second half that had three goals from Alfredo Bigatti, La Ensenada Brubank was unable to overcome their slow start in the 15-9 defeat. 

Scoring just moments into the game, Stirling put La Dolfina Saudi Polo Team ahead 1-0, but La Ensenada Brubank provided a swift response with a field goal from Britos. Turning to Cambiaso, La Dolfina Saudi Polo Team surged ahead by controlling possession and preventing any counterattack from La Ensenada Brubank. Producing two goals and an assist during a stretch of four unanswered goals, Cambiaso headlined a dominant La Dolfina Saudi Polo Team attack to take a 5-1 lead. In the defining stage of the game, La Dolfina Saudi Polo Team was relentless in the fourth chukka, outscoring La Ensenada Brubank 5-0 with Cambiaso and Stirling charging forward. Two penalty conversions contributed to the dominant seven minutes and left La Ensenada Brubank facing a nearly insurmountable 11-2 deficit entering the second half.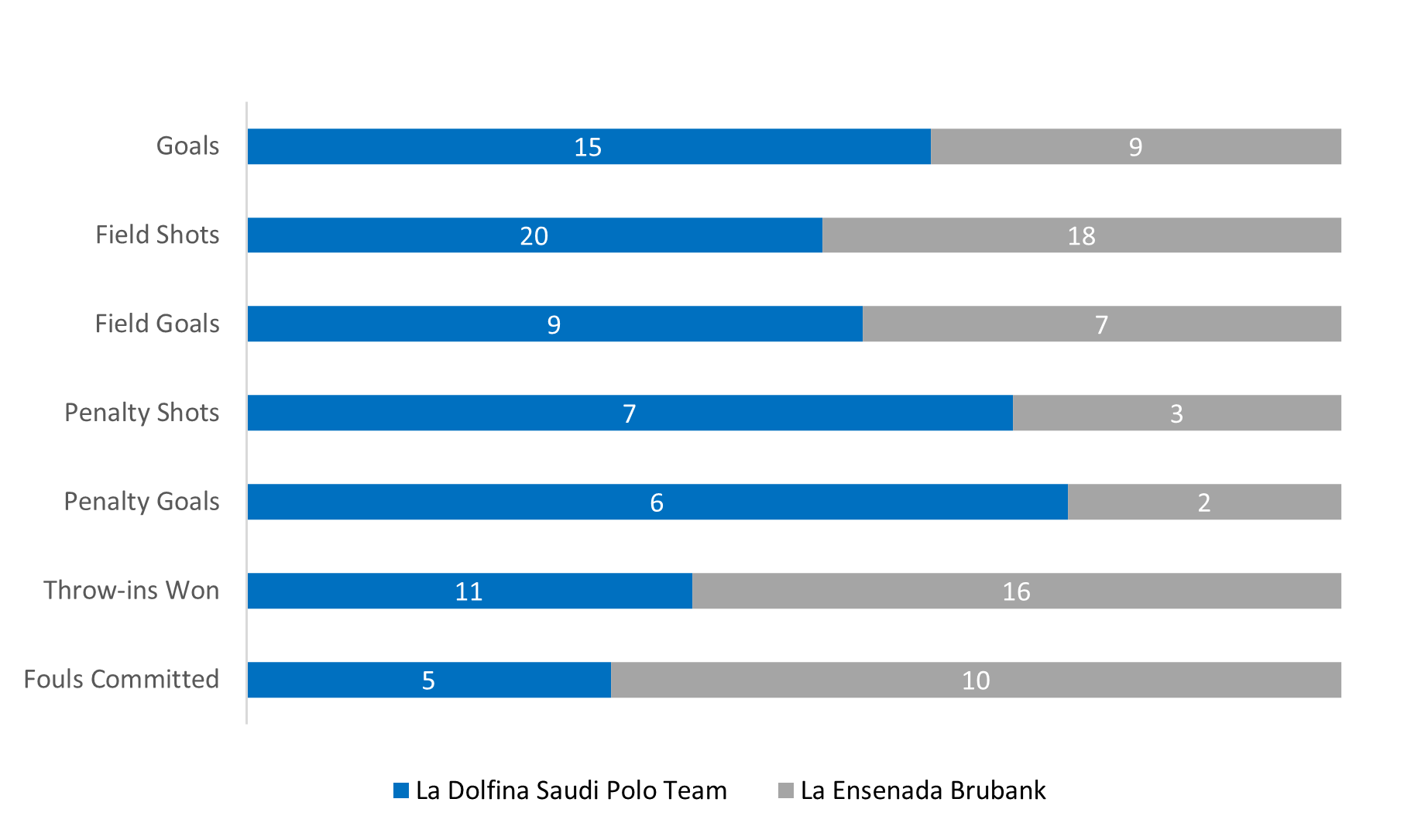 Focused on managing their lead, La Dolfina Saudi Polo Team did not overextend themselves in the final three chukkas, preventing any significant runs for La Ensenada Brubank. Two goals from both Bigatti and Juan Martin Zubia resulted in La Ensenada Brubank winning their first two chukkas of the match, but the difference on the scoreboard remained at six with one chukka remaining. Completing an exceptional performance, La Dolfina Saudi Polo Team added two goals, one each from Cambiaso and Cavanagh to claim the 15-9 triumph and turn their attention to La Natividad for a place in the final. 
Photo Credit: ©Matias Callejo